Kyra Vidas '18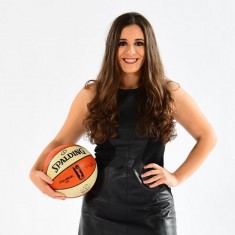 Class Year
2018
Area(s) of Study
Majors: Business and Communication Minor: Classical Studies
Kyra Vidas '18 credits her experiences at Lake Forest with helping prepare her for the challenges she has encountered as the Director of Basketball Operations for the WNBA Atlanta Dream in Atlanta, Georgia.
How did you choose your area of study?
I knew from the start I wanted to do business and communication at Lake Forest College. I knew the liberal arts education would set me in the right direction because of the broad understanding of both the business and communication majors.
What role did internships play in shaping your career path?
My internship with the WNBA team the Chicago Sky led me to my job. I started working with the team in Chicago, and through my years of experience, loyalty, hard work, and networking, I was able to connect with other teams and have my dream come true!
Describe a moment or experience you had in college that helped define your career path.
Being an athlete my whole life, I knew sports was what I loved and was passionate about. Working in the athletic offices throughout my college years, I knew this is where I wanted to be.
What would you recommend Lake Forest College students considering a career in your field do to prepare?
Look for an internship right away. I started my freshman year of College. The sports industry is tough and very competitive. You have to get your foot in the door as soon as you can and work your way up. You may have to start at the bottom and do the dirty work first, but once it gets recognized, you never know what opportunities could come your way. 
What have you found the most rewarding in your career and life after graduation? 
I am able to do what I love every day! I have an incredible job, but still have time to play handball, travel the world, and make connections wherever I am.