Audrey Paglia '21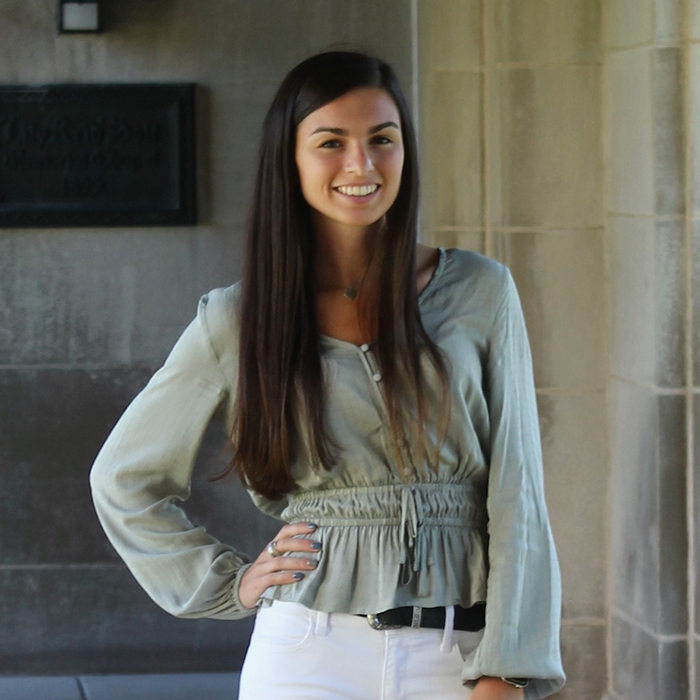 Class Year
Undergrad 2021, Graduate 2022
Area(s) of Study
Masters in the Arts of Teaching (Bachelor's in Spanish, minor in History)
Hometown
Libertyville, IL
Co-curricular
During my time at Lake Forest College I have been a part of various organizations and teams. Some of these include Cross Country, Track, Alpha Phi Omega, Kappa Delta Phi, Phi Beta Kappa, Omicron Delta Kappa, and Phi Sigma Iota. I am grateful for the experiences and opportunities these organizations provided me.
Research conducted while at Lake Forest
Developed and conducted a teacher action research project focusing on student perceptions of physical activity in the classroom during my student teaching placement.
Current Graduate School
Lake Forest College- Masters in the Arts of Teaching (Elementary Education)

Bringing leadership skills to her future classroom
What skills did you work on while at Lake Forest that have helped you be successful today?
As a student-athlete, LFC taught me the importance of leadership. I was the captain of both the cross country and track teams which allowed me to grow as a leader. Specifically, I learned the importance of collaboration, inclusion, and compromise all in the interest of team progression.
What experiences at Lake Forest have you had that you think have been invaluable to your career?
While obtaining my Masters in the Arts of Teaching I have had many opportunities to augment my academic work with teaching in numerous districts and classrooms. The blend of my academic work coupled with my student teaching has uniquely prepared me for my own classroom upon graduation.
Who is the one person/student organization/mentor that impacted you the most? and how so?
The one organization that has impacted me the most has been my involvement in both Cross Country and Track. Over the past 5 years it has taught me the value of teamwork, leadership, and perseverance. Additionally, it gave me the opportunity to establish lifelong friendships.
Why Lake Forest? (either why you chose Lake Forest or why you think a prospective student should consider the College)
Lake Forest gives you an overall wonderful college experience based on its size, location, and outstanding academic reputation. It afforded me the opportunity to be a student-athlete, while simultaneously allowing me to get involved with numerous clubs and student activities.