Roberta Dume '13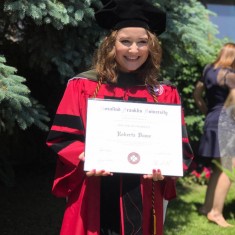 Class Year
2013
Area(s) of Study
Chemistry Major and English Minor
Hometown
Glenview, IL
Graduate Study
Doctor of Pharmacy
(PharmD)
Rosalind Franklin University
How did you explore your interests and decide on a major?
I knew right away that I wanted to pursue a pre-health major, but wasn't sure which major exactly. It quickly became clear to me that the faculty in all the science departments were really great professors and had a passion for teaching. In the end, I realized that my curiosity for chemistry really aligned with my goals for post-graduate education!
Describe a moment or experience you had in college that helped define your career path.
A conversation that really resonates with me to this day was with my advisor, Professor Wiser. I was working on a research project the summer before my senior year, when I was asked to assist with a lab activity for Professor Wiser's summer school class. Professor Wiser had said that I really showed natural talent for academia and teaching - which I had never considered given my goal was to attend pharmacy school. Since then, I have completed an academia rotation in pharmacy school and I am now pursuing a residency where I will precept pharmacy students and even earn a teaching certificate. I really need to thank Professor Wiser for giving me the inspiration to pursue a future career that will incorporate academia.
What steps did you take in college to prepare for your career?
I really tried to take advantage of the leadership opportunity the college had to offer. I had an executive role in both Alpha Phi Omega and Eukaryon. I also was granted a Grace Elizabeth Groner Scholarship. These unique experiences really made me a competitive candidate when it came to applying to pharmacy schools.
What would you recommend Lake Forest College students considering a career in your field do to prepare?
Get involved! Since pharmacy requires post-graduate education, applying to pharmacy schools becomes very competitive and you want your application to stand out. Take advantage of the unique programs and leadership opportunities that Lake Forest College has to offer. I also encourage to network! I had met the assistant dean of the college of pharmacy I later chose to attend at an event hosted by the Grace Groner Foundation.
What have you found the most rewarding in your career and life after graduation?
After four years of pharmacy school, my career is only about to begin this summer 2017. I look forward to finally not being a student anymore and being able to work!