Natalie Kukulka '13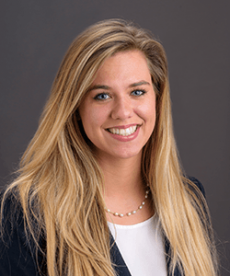 Class Year
2013
Area(s) of Study
Majors in Biology and Neuroscience
Graduate Study
University of Missouri School of Medicine
Current Job
Dr. Kukulka is a pediatric neurologist in Washington (DC)
Tylenol recently awarded Natalie Kukulka '13 a $10,000 scholarship for her devotion to academic excellence, exemplary leadership, and community engagement.
The fourth-year medical student at the University of Missouri School of Medicine is one of only 10 health profession students in the country—including undergraduate and graduate health education, medical school, public health, nursing and pharmacy degree applicants—to receive the award.
Throughout her studies, Kukulka has tried to step beyond the book and devote herself to the care of others. She plans to become a pediatric neurologist and continue working in the community, conducting research and exploring global studies.
"I have always been fascinated by the human brain," Kukulka said. "I want to merge my intellectual curiosity, research involvement, passion for neurology and love for pediatric patients into one career in pediatric neurology. For a relatively young medical specialty, I anticipate many challenges ahead, but I also look forward to taking part in groundbreaking research that has yet to come."
In medical school, Kukulka helped address the lack of neurological care in an underserved community by helping to create free neurology clinic nights at the MedZou Community Health Clinic while also serving as the director of patient advocacy and referrals. She also helped organize the first Autism Awareness Walk in Columbia, Missouri, as well as various panels, workshops and outreach events intended to educate and inform medical students and the community. In her spare time, she serves as the copy editor for the American Journal of Hospital Medicine.
Her interests in neurological conditions such as Parkinson's disease and myasthenia gravis have earned her several awards, including the School of Medicine Dean's Award for Outstanding Research and recognition from the American Academy of Neurology and the American Association of Neuromuscular and Electrodiagnostic Medicine.
Kukulka first developed her passion for understanding the brain at Lake Forest College, where she double-majored in biology and neuroscience and minored in studio art. She earned a Carr Prize in neuroscience and a Towle Award in biology, was on the Dean's List, was selected as a Richter Scholar and member of the Senior 25, was inducted into Nu Rho Psi and Beta Beta Beta, and completed an internship at the Rehabilitation Institute of Chicago, now the Shirley Ryan AbilityLab. As a senior, she completed her thesis research on Parkinson's Disease funded by a national grant that she received from the Parkinson's Disease Foundation.
Disque D. and Carol Gram Deane Professor of Biological Sciences and Chair of Biology Shubhik DebBurman, who taught and advised and Kukulka and was her research mentor, was not at all surprised by this prestigious selection.
"Once a leader, always a leader," DebBurman said. "Natalie's four years at the College were punctuated by her strong commitment to lead and serve. She helped found the college's chapter of Nu Rho Psi her junior year, served as a key leader in Eukaryon, and was a standout peer teacher and mentor in multiple classes and in the research lab. I remember that when she was studying abroad in New Zealand, she went and above and beyond and participated in two very different research projects in fields as diverse as structural biophysics and animal behavior. She took full advantage of the College's access opportunities that provide the professional edge."