Amanda Allred '14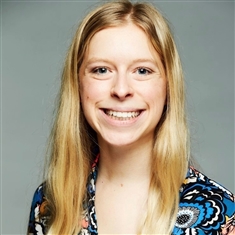 Class Year
2014
Area(s) of Study
Neuroscience major; English minor
Hometown
Kansas City, Missouri
Graduate Study
MS in Genetic Counseling
Brandeis University
Why did you choose Lake Forest College?
When I was applying to college, Lake Forest College, stood out because of the small classroom sizes, the sense of community on campus, and the proximity to Chicago. Further, I was impressed that students had the opportunity to conduct academic research with faculty as early as the summer after their first year.
How did a liberal arts education make a difference for you?
I benefited intellectually and personally from the individualized attention I received from my professors and academic advisors. Lake Forest College not only supports but encourages its students to pursue a well-rounded education. I did not have to sacrifice my love of studying reading and writing to pursue a degree in neuroscience.
How did Lake Forest College help prepare you for a master's in genetic counseling programs?
Lake Forest College provided me with the academic framework and skill sets I needed to succeed in my rigorous graduate courses. After graduating from Lake Forest College, I spent a few years working as a lab technician at Northwestern. I volunteered for a Chicago nonprofit called Resilience (formally Rape Victim Advocates) as a medical advocate, where I supported victims of sexual assault in the emergency department. I also had multiple informational interviews and shadowing experiences with genetic counselors.
How did Lake Forest College set you up for success?
Even though I did not always love it at the time, many of my courses at Lake Forest College involved working as a team and giving presentations. These are both skills that have served me well professionally.
What do you think of the new Health Professions Program between Lake Forest College and Rosalind Franklin University of Medicine and Science?
The new Health Professions Program is a great way to expose college students to career paths that are an alternative to pursuing an MD. Many college students have not considered that providing clinical care requires a team of professionals, including doctors, nurses, pharmacists, physician assistants, physical therapists, occupational therapists, social workers, speech-language pathologists, genetic counselors, clinical counselors, and more. You do not need to be a physician in order to help patients.
What advice would you give a high school student looking to pursue pre-health and considering Lake Forest College?
Enjoy this time in your life—expose yourself to new ideas, experiences, people, places.