Carolina Guadarrama '19 initiates clean water efforts in Mexico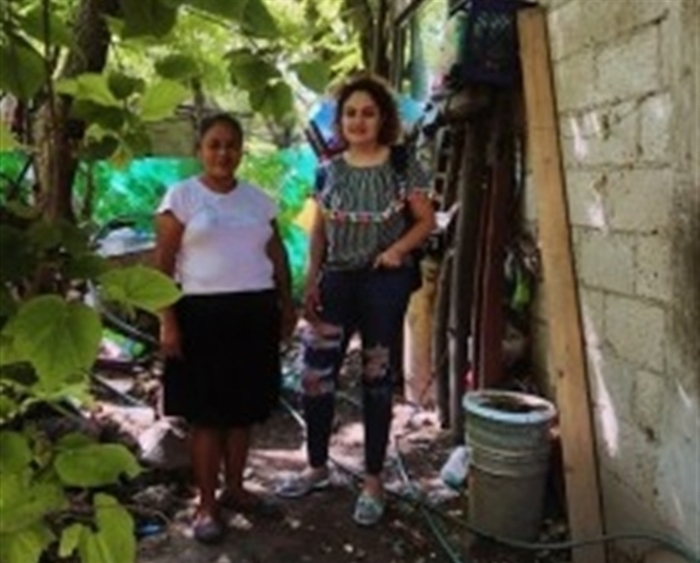 Carolina Guadarrama '19 spent her summer after graduation planning, researching, and implementing a life-changing water project in Mexico that was made possible by a Davis Projects for Peace grant.
In Morelos, Mexico, water is only delivered every two weeks to the town of Alpuyeca, located just 73 miles south of Mexico City. Since the 7.1-magnitude Puebla earthquake in 2017, the hard-hit Central Mexico community's water sources have not been stable or easily accessible. This region of Mexico has experienced non-potable water due to limited government funding.
Using grant money awarded by Projects for Peace, Guadarrama purchased filters made with sand, activated charcoal, gravel, and coconut husks to clean water from irrigation systems and rain to provide residents with safe water for drinking and cooking. Guadarrama, a Spanish major and entrepreneurship and innovation minor, installed the filters in 30 homes.
Fatemah "Sima" Riahi '19, a collaborator on the project, helped Guadarrama with preparation before her trip to Mexico to install the filters. Riahi and Guadarrama will write a report together about the impact the project is having on the community of Alpuyeca.
Guadarrama's aunt, who is a doctor at Instituto Nacional de Salud (Mexico's National Institute of Health), will continue the case study to check the filters' progress every six months. This study will ensure that the filter removes dangerous chemicals from the water so that it's safe to drink.
"The people in Alpuyeca don't have anything, but they give you whatever they can. They're not only facing the water problem, they're facing many problems," Guadarrama said.
Reflecting on the experience the Project for Peace grant made possible, Guadarrama said: "I'm very happy I was able to go back to my country and bring something meaningful. My main goal after coming to the US was to finish college, and after doing this project, I realize that I can use my knowledge and experience to help others."
Each summer, a Lake Forest College student—or group of students—receives a Projects for Peace award from the Davis Foundation to design and carry out a grassroots project anywhere in the world that promotes peace and addresses the root causes of conflict among peoples. This award is open to all majors.
Related Links: