Study Abroad and Domestic Study Away
Notes from Abroad: Emma in Costa Rica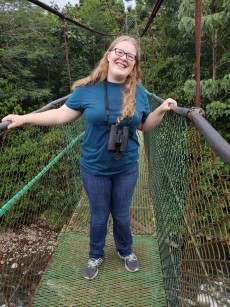 Emma Kuhr '20, a double major in Neuroscience and Biology, is studying at Veritas University in Costa Rica
¡Hola! My name is Emma Kuhr and I'm currently studying abroad in Costa Rica at Veritas University. My majors are biology and neuroscience, and I hope to eventually become a veterinarian specializing in wildlife. I decided to study abroad in Costa Rica because I've taken several Spanish classes, but have never gotten very much practice speaking it. I have taken a class in Spanish for health professionals, and am currently taking classes about land vertebrates, wild cats, and birds in Costa Rica.
These classes have all been incredibly hands-on, with field trips that have taken me all over the country. I have gotten to see cloud forests, dry forests, coastlines, rivers, beaches, waterfalls, and wildlife that I never knew existed. We have visited two research stations so far, going on hikes at night to try to find frogs, lizards, and birds, and soon we will visit Nancite beach to try to observe turtles, ocelots, and (hopefully) jaguars.
In addition to all I've learned about the wildlife of Costa Rica, my Spanish has gotten much better since I've arrived. Because I've been speaking only Spanish with my host family, I've become quicker and more comfortable speaking and understanding Spanish. It really is true that immersing yourself in a language is the best way to learn it. I've also been very lucky to be able to volunteer at a vet clinic near the university, which has allowed me to pick up vocabulary that will be very useful if I need to speak Spanish as a veterinarian, and to compare the practices in the clinic I volunteer at now to ones that I have volunteered at in the United States.
Overall, this experience has been fantastic so far. I've been able to prepare myself for becoming a vet while also having a great time and doing this I've never dreamed of doing before. I'm extremely grateful for the help from my donor. Without it, I certainly wouldn't have been able to do many of the wonderful things I've gotten to do during this semester!
News Contact
Alexandra Olson Coordinator of the Global Engagement Office
847-735-5231
aolson@lakeforest.edu