Study Abroad and Domestic Study Away
Notes from Abroad: Arleigh in Finland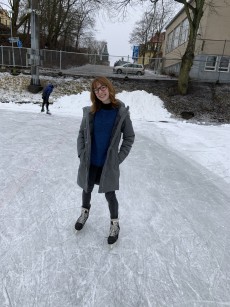 Psychology major Arleigh Kraker '21 studied at the University of Turku in Finland this semester.
My name is Arleigh and I'm a Psychology major with minors in Music and Gender, Sexuality, and Women's Studies.  I was able to spend the first 2 and a half months of my 2020 studying at the University of Turku in Finland.  I am extremely grateful for the scholarship I received that helped pay for my airfare and made the trip more affordable.  I left Minnesota on January 1st and after many hours in airports and on planes arrived in Turku, Finland on January 2nd, beginning a brand new decade in a brand new place.  I was one of only three students from the United States in the program.
I was living in an apartment complex that was specifically for exchange students and I met the most amazing friends through movie nights and karaoke parties.  Many of them were in my classes, and we would exchange thoughts on our homework and those of us in the Psychology department formed a small study group.  We spent lots of time together, going ice skating, visiting saunas, and making meals from our home countries to share.  It was amazing to hear all about their different cultures and learn what makes us different but also what connects us (like the fact that every single one of us knew all the words to Thrift Shop by Macklemore and Ryan Lewis).
I was even lucky enough to travel to Germany and The Netherlands and meet some fellow Lake Forest students there!  Rachel Robbins, Grace Gould and I fell in love with the food of Cologne and the atmosphere of Amsterdam.  It was an amazing trip where we were able to visit Holocaust memorials and the Van Gogh Museum and learn so much more about European history.
I experienced the 100 year anniversary of the University of Turku as well as another big festival called Pikkulaskiainen that celebrates the ingenuity and spirit of Finnish students.  I collected colorful patches from all the events I attended (something very common in Finnish Universities) to remember everything I experienced.  My first project upon returning to the United States was to sew them all onto a jean jacket.
Though my time was cut short and I had to cancel upcoming adventures to Estonia and Russia I am beyond grateful for the time I spent in Finland and I cannot wait to go back some day and explore even more of the beautiful Nordic country!
News Contact
Alexandra Olson Coordinator of the Global Engagement Office
847-735-5231
aolson@lakeforest.edu