Modern Languages and Literatures
Daniel Everhart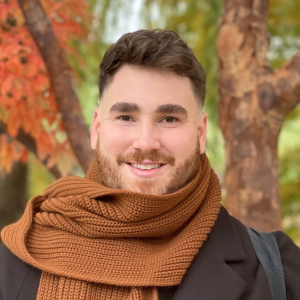 Visiting Assistant Professor of Spanish
Modern Languages
Specialization
Contemporary Peninsular Literary and Visual Studies
Gender and Queer Studies
Cinema Studies
Catalan Language and Literatures
Research Interests
20th and 21st century Peninsular Literature and Film
Queer Cultural Production and Cultural Studies
Comics, Graphic Novels, and Visual Cultures
Drag and Transformismo
Performance Studies and Affect Theory
Catalan Studies
Education
ABD, University of Illinois at Chicago
MA, University of Virginia
Master propio, Universidad San Jorge
BA, University of North Carolina Asheville
Courses Taught
Conversation and Composition
Survey of Peninsular Literature
Identity and Memory in Contemporary Spanish Film
Peninsular Narrative
Spain Today
Cine español
Presentations
"Giving Up the Ghost: Spectrality, Trans Subjectivity, and Fantasy as Affect in Manderley." Midwest Modern Languages Association Conference, Milwaukee, WI (2021).
"Mítica y deseada: subjetividad trans en Manderley de Jesús Garay." Talks in Literature and Culture, Chicago, IL (2021).
"Queer perspectives and el malinchismo in the poetic work of Salvador Novo and Xavier Villaurrutia." Queer Modernisms (II). University of Oxford, Oxford, England (2018).
"Mapping Queer Voices in Post-Revolution Mexico: Novo and Villaurrutia." ACS Gender Studies Conference. Southwestern University, Georgetown, Texas, (2016).