Entrepreneurship and Innovation
Students promote inclusivity on the playground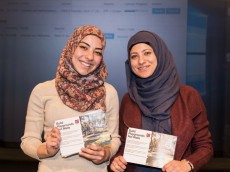 Isha Khalil '19 and Mariyam Khalil '20 will spend their summer in Jerusalem building an all-inclusive playground after being awarded a $10,000 Davis Projects for Peace grant.
The grant they received will be used to rebuild an underfunded hospital's playground space and purchase all-inclusive playground equipment, a project they call "Build Playgrounds Not Walls."
For children with mobility challenges, accessible play areas let them play and be children, just like everyone else," said Isha. "And children who don't have these challenges learn to interact with children with different backgrounds and abilities."
Each summer, a Lake Forest College student—or group of students—receives a Projects for Peace award from the Davis Foundation to design and carry out a grassroots project anywhere in the world that promotes peace and addresses the root causes of conflict among peoples. The award is open to all majors. Isha is a double major in biology and international relations, while Mariyam is double majoring in psychology and sociology and anthropology.
Related Links: