Haunted Tales of Lake Forest College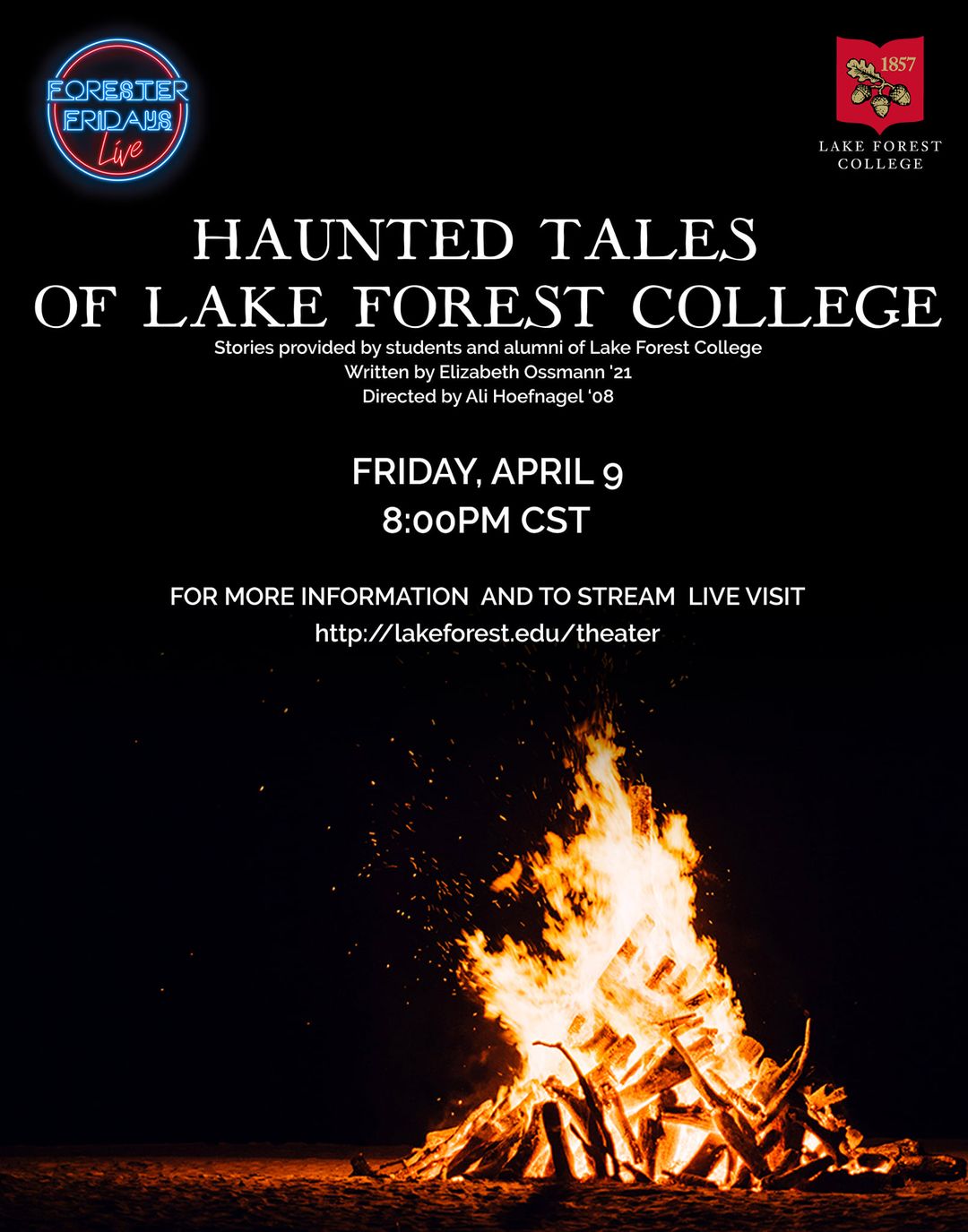 Trifles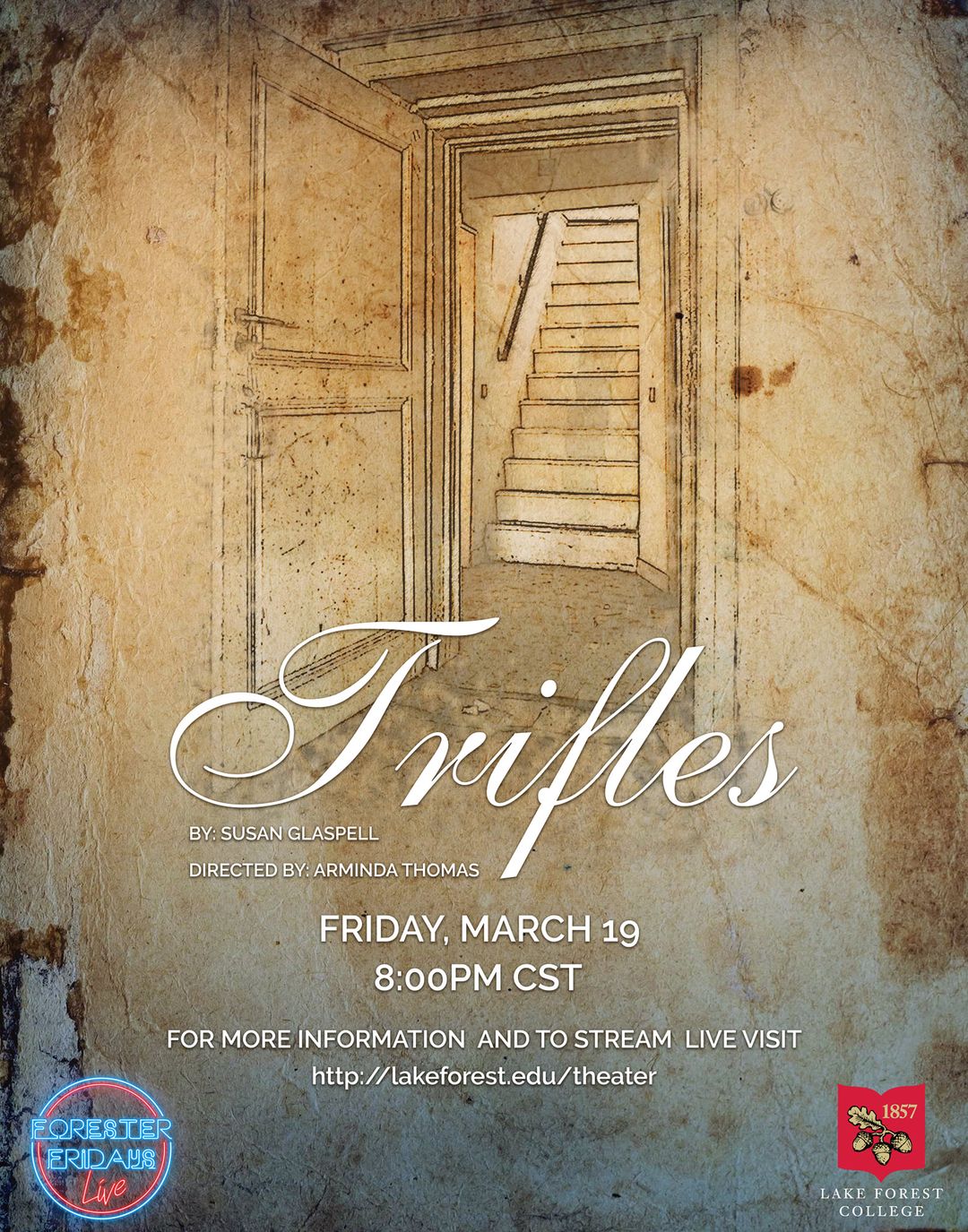 Forester Fridays Live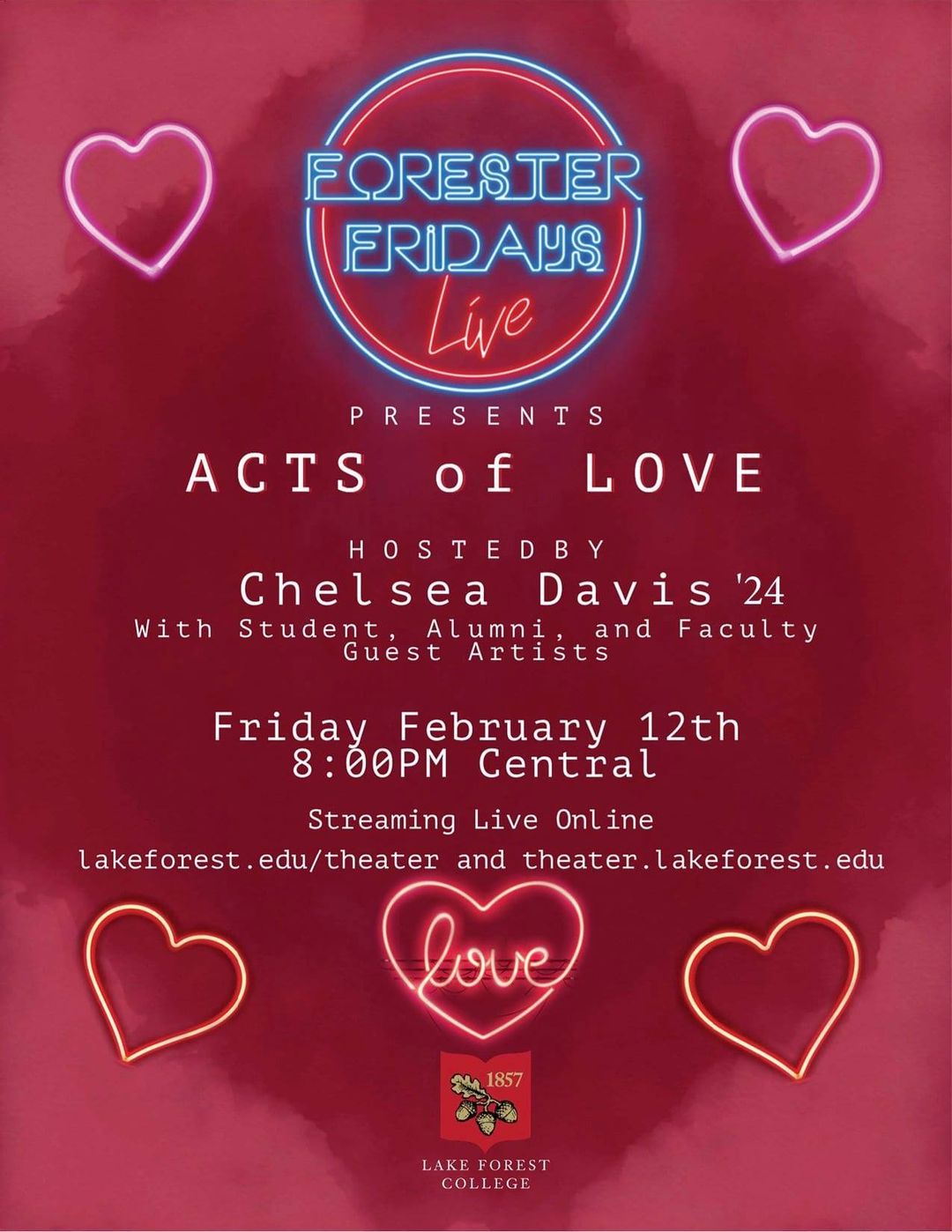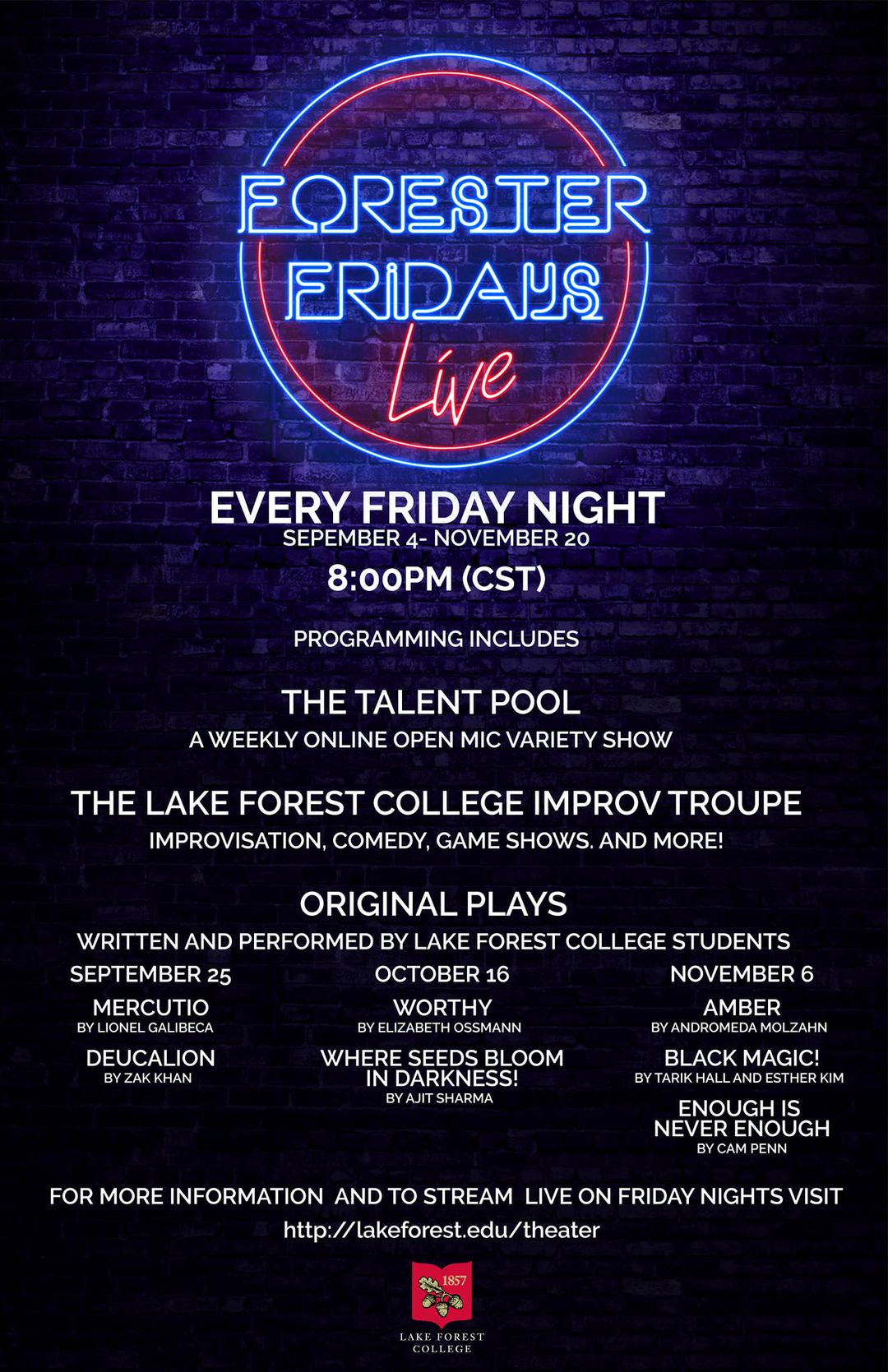 Spring 2020
Little Shop of Horrors
directed by David Knoell
A delightful and hilarious sci-fi musical about a bloodthirsty plant.
Fall 2019

Machinal
by Sophie Treadwell
directed by Kristin L. Schoenback
Machinal, which translates as "automatic" or "mechanical" in French, is a 1928 expressionist play by the journalist and playwright Sophie Treadwell that re-envisions the actual case of Ruth Snyder's murder of her husband and her subsequent execution.
Nov. 7, 2019 7:30pm
Nov. 8, 2019 7:30pm
Nov. 9, 2019 7:30pm
Nov. 14, 2019 7:30pm
Nov. 15, 2019 7:30pm
Nov. 16, 2019 7:30pm
Alight Here
Written and directed by Emma Anderson
March 29-30
The Complaint Department
Written by Peter M. Floyd * Directed by Bianca Shofner
Conspiracy
Written by RJ Hughes * Directed by Fernand Qvjt
Honey, We're Off to Save the Bean
Written by Isaac Winter * Directed by Avery Grant
April 12-13

Written by Bruce Holtman * Directed by Garrett Wells
April 27-28
Fall 2018: A staged reading of Hideous Progeny
It was a dark and stormy night when Lord Byron challenges Mary Godwin (not yet Shelley) to write a ghost story that will make her immortal. Witty, salacious, and often melodramatic-we are talking about the Romantics, after all- Hideous Progeny takes these larger than life figures and depicts them as the teenagers they were; overeducated, egotistical and convinced they will change the world despite how little they know about it. the world despite how little they know about it.
November 2,4,10,11 at 2 PM
Calvin Durand Hall
Fall 2018: Frankenstein
The Department of Theater presents our Fall 2018 production of Frankenstein based on the novel by Mary Shelley and Directed by David Knoell.
A site specific, immersive new version of the classic work of horror that puts the audience in the story. Based on the novel of Mary Shelley and adapted by David Knoell.
Performed in the Calvin Durand Hall on October 31st, November 1-3rd and November 8-10th.
Spring 2018: The 25th Annual Putnam County Spelling Bee
The Department of Theater presents the tale of several socially awkward youngsters finding joy,
heartache and a purpose in competing at the regional spelling bee. Music and Lyrics by William Finn, Book by Rachel Sheinkin and directed by David Knoell. This production was performed in the Allan Carr Theater in Hixon Hall on April 5-6 @7:30pm; April 7 @3pm and 7:30pm; April 12-13 @7:30; April 14 @3pm and 7:30.
Fall 2017: Macbeth
Lake Forest College Theater Department presents William Shakespeare's MACBETH
Directed by Tyler Madeley '18
October 26-November 4, 2017
"Macbeth represents the idea that we, as human beings, were never meant to live in a society. We were meant to be what we were born to be, animals. When the main characters of Macbeth live in a way that dismantles society, they thrive. When they give in to society, they are hindered."—Tyler Madeley
Spring 2017: Post-Mortem
Written and Directed by Tyler Madeley '18. The play tells the story of six individual people. Each person has died in some way, and would like to tell you their story. While some know they have passed, others are still unaware. Please give them your attention, and most importantly, your time, something that they no longer have. After all, if you knew you could only say one more thing before you died, wouldn't you want people to listen? April 13th, 14th and 15th
Spring 2017: Jesus Satisfy With Her
Adapted from "A Visit of Charity", "Why I Live at the P.O.", and "A Piece of News", by Eudora Welty, as well as "Revelation" and "A Good Man is Hard to Find" by Flannery O'Connor, Jesus Satisfy With Her, follows the life cycle of a Southern woman. from her early teenage years as a Campfire Girl to her days as a grandmother, presenting several different women in the South at various stages in their lives. The show adapts three short stories by Eudora Welty and two by Flannery O'Conor; Welty and O'Connor were two of the most prominent and powerful Southern writers of the 1940s. Jesus Satisfy With Her is a Southern-styled comedy that has everything you love: old ladies, family feuds, and a serial killer on the loose. April 5th, 6th and 7th
Spring 2017: Life on My Hands
Written and directed by Ananias Z. McGee '17, this play is based on interviews with Lake Forest College students. Jasmine discovers that there's a little more to worry about when getting into college than keeping her grades up. She leaves the comforts of home in Chicago with her Mom. Dad, and best friend Larissa, to go to a predominantly white liberal arts college in one of the most upper-class neighborhoods in Illinois. We follow her journey as a first-year college student, juggling course work, extracurriculars, and her new friends Shannon, Mike and Rick. Unfortunately Jasmine soon learns the hard way that not all of her peers know exactly what it means to "embrace diversity". March 2nd, 3rd and 4th
Fall 2016: Pericles, Prince of Tyre
Richard Corley directs Lake Forest's fall theater production, William Shakespeare's Pericles, Prince of Tyre. Pericles is a romantic hero's journey across the Middle East and through time. It is a fantastical tale of incest, evil, shipwreck, death and resurrection, loss and redemption, and of the reconciling power of the love between a parent and child. After writing his great tragedies King Lear, Othello, and Hamlet, in Pericles, one of his final plays, Shakespeare turns to a story of hope, faith, and joy, using music, magic, storytelling, and some of the most beautiful language ever written for the stage. It is an entertaining, exciting, fast-paced, and deeply moving evening of theatre for the whole family. This production was performed in the Allan Carr Theater in Hixon Hall at 7:30 p.m. on October 27, 28, 29, November 3, 4 and 5, 2016.
Spring 2016: 20K
Lake Forest College presents a new adaptation of Jules Verne's sci-fi classic 20,000 Leagues Under the Sea, written and directed by David Kersnar of Lookingglass Theatre. Join the crew of the Nautilus as they explore the depths of the ocean, led by the mysterious Captain Nemo. This immersivere-imagining of the iconic story puts the audience in the water as they join the radical revolutionaries fighting injustice…..AND a giant squid. This production was performed in the Allan Carr Theater in Hixon Hall on April 7, 8, 9, and 14,15, 16, 2016.
Fall 2015: H.M.S. Pinafore
Directed by Geoff Button, of Chicago's Hypocrites Theatre Company, Gilbert and Sullivan's H.M.S. Pinafore is a hysterical musical tale of romance on the high seas that timelessly skewers the pretenses of snobbery. This production was performed at the Gorton Center in downtown Lake Forest on November 5-8, 2015.
Spring 2015: Failure: A Love Story
Failure: A Love Story takes us to 1928, the last year of each of the Fail Sisters' lives. As with so many things in life–blunt objects, disappearances and consumption–they never saw death coming. This performance is a magical, musical fable that traces the sisters' triumphs and defeats, lived out in the rickety two-story building by the Chicago River that was the Fail family home and clock shop. This funny, moving and profoundly wise play reminds us that in the end, all that remains in love. This production was performed in the Allan Carr Theater in Hixon Hall at 7:30 p.m. on March 26-28 and April 2-4.
Fall 2014: Shakespeare's As You Like It
When banishment turns into an adventure, two women embark on a journey with hidden identities and a desire for freedom. Directed by Professor Chloe Johnston and performed by a student cast, As You Like It tells the story of young love in paradise, using the original Shakespearean script in a modern setting. This production was performed in the Allan Carr Theater in Hixon Hall November 13-15 and November 20-22, 2014.
Spring 2014: Little Women
A delightful adaptation of Louisa May Alcott's classic youth-coming-of-age novel about the adventures of the four March sisters–Meg, Jo, Beth, and Amy–as they make the transition from adolescence into adulthood. The music deepens each memorable moment of this wonderful story. This performance ran from March 27-29 and April 3-5, 2014.
Fall 2013: Occupy! Scenes from a Movement
The fall 2013 theater production was a newly created play based on the Occupy Wall Street movement in Zuccotti Park, New York City in the fall of 2011. It ran November 14-16 and November 21-23, 2013 at 7:30 p.m. Through interviews and research, Lake Forest College students have worked with director and writer Richard Corley to create this original and exciting piece of theater.
Spring 2013: All of Orestes
The Department of Theater presents All of Orestes, directed by Sean Graney, Artistic Director of The Hypocrites in Chicago. All of Orestes is a three-act look at Orestes and his descent into matricidal madness. A modern adaptation of nearly all the Greek tragedies that feature Orestes (Aeschylus' Oresteia, Sophocles' Elektra, and Euripides' Elektra, Orestes, Andromache and Iphigenia in Tauris). Orestes returns to Argos ten years after his mother kills his father to enact murderous revenge with the help of his sister Elektra. Hunted by the Furies, he finally abandons his flight and stands trial under a new system of justice. Shows were performed February 21 through March 2, 2013.
Fall 2012: The Chicken Bone
The 2012-2013 theater season opened with "The Chicken Bone," performed November 8-17, 2012. "Hunger makes us do very strange things…" In a house in a wood, a boy and a girl tell each other stories. They tell tales of the days when people ate the sky and birds and mice could speak. They tell stories of how bananas came to be and what the animals drank before there was water. Only, the boy lives in a cage. And they are trapped by an evil witch. In a house made of gingerbread… This re-telling of the dark tale of "Hansel and Gretel" weaves together stories and folk tales from many cultures that share one theme: what we eat. This production, collaboratively created by the director and the cast, ties into the Lake Forest College-wide theme of food.
Spring 2012: 44 Plays for 44 Presidents
The Department of Theater's spring 2012 season concluded with 44 Plays for 44 Presidents, a chronological, biographical survey of the lives and presidencies of each of the 44 men who have held the office so far. Originally created by Chicago's Neo-Futurist Theatre Company (home of the long-running late-night show, Too Much Light Makes the Baby Go Blind), the show veers from comedy to tragedy and back again—much like history itself. Our production of 44 Plays for 44 Presidents will also be part of the 2012 44 Plays Festival—an exciting year-long event linking 44 separate productions of the play across the country. The production was held on campus in the Carr Theatre, Hixon Hall April 5-14, 2012.
Fall 2011: Pirates of Penzance
The Lake Forest College Departments of Music and Theater put together a collaborative production of The Pirates of Penzance, one of Gilberts and Sullivan's most beloved operettas. The Pirates of Penzance, or the Slave of Duty, was premiered in 1879 in New York and London and remains one of Gilbert and Sullivan's most beloved operettas. Featuring a band of softhearted pirates and a bevy of beautiful maidens, the show is a delightful masterpiece of parody and satire. The production will be co-produced by Don Meyer, Chair of Music, and Richard Pettengill, Chair of Theater. It was performed at the Gorton Community Center, 400 E. Illinois Road in Lake Forest November 10-13, 2011.
See a Production
Reservations
Email: theater@mx.lakeforest.edu to make reservations. Reservations are strongly recommended, as many of our performances sell out.
Cost:
Free for members of the campus community
$3 for students from other schools
$7 for unaffiliated adults


Payment is at the door ONLY by cash or check (no credit cards accepted). Please arrive by 7:15pm. At 10 minutes before show time (7:30pm), reservations will be forfeited to those present and waiting to be seated.
Directions
The Theater Department resides in Hixon Hall at
555 N. Sheridan Road on Lake Forest College's South Campus, near the corner of Sheridan Road and Maplewood Road.

Parking is located in the Maplewood Road parking lot. On campus, Hixon Hall is located behind Moore Hall and just north of the Maplewood Road parking lot.