Mohini Verma '18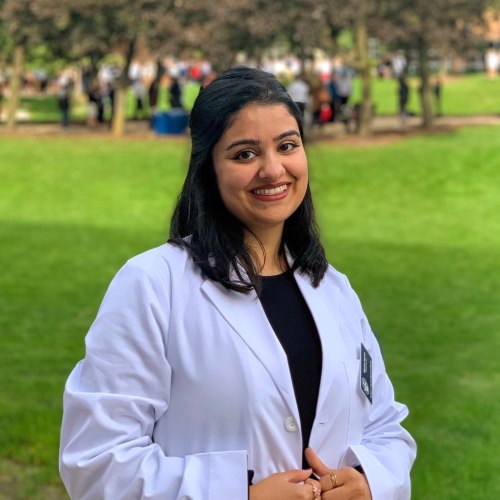 Class Year
2018
Area(s) of Study
Major in Neurology and Minor in Chemistry
Hometown
Mundelien, Illinois
Graduate Study and Major and Minor
DMD
Midwestern University
What made you choose Lake Forest College?
I chose Lake Forest Colleges because of the small classroom/lab sizes, faculty-to-student ratio, open-door policy, extracurricular organizations, and research opportunities. I was encouraged to take classes outside the sciences, which allowed me to gain different perspectives to become a well-rounded alum.
How did a liberal arts education make a difference for you?
At LFC, I was a Neuroscience major on the pre-health track. At most other universities, I may not have been able to take classes outside of the "science-bubble". This was never the case at LFC. I was able to take classes from various departments including History, Religion, and English. This opened me up to engage in different kinds of discussions with my peers with different world views. As a dental student, I do not take this opportunity for granted as my previous experiences have given me a different perspective on how I will interact with my future patients.
What experiences outside of the classroom do you think helped prepare you for dental school?
Lake Forest College does a wonderful job of promoting diversity through on-campus activities. I was able to interact with students from different cultural backgrounds, making my time at LFC very meaningful. I was able to make lifelong friendships and mentors, that I am still in contact with having graduated in 2018.
How did your time at Lake Forest help you prepare to apply to dental school programs?
I participated in many extracurricular organizations at LFC including Synapse, Eukaryon, First Connection Pre-Orientation Program Mentor, Future Health Professionals, RFUMS Summer Research Fellowship, FIYS Student Mentor, Chemistry Laboratory Assistant, and Student Intern. Not only was I a member of these organizations, but I also held executive positions. My extracurricular involvement strengthened my dental school applications as it projects a well-rounded prospective student. In addition to this, I obtained strong letters of recommendation from my professors as they can get to know their students very well at LFC.
What skills and experiences at Lake Forest do you believe will help you be successful?
At LFC, I strengthened my presentational skills by giving several PowerPoint presentations and seminars. I also learned how to efficiently read any research article, extract meaningful data, and cohesively present and interpret the results. Many of my peers at dental school struggle giving a 10-minute presentation on journal articles, something I can easily do. I also learned how to effectively write research papers and review articles.
What advice would you give a high school student looking to pursue pre-health and is considering Lake Forest College?
To high school students, Lake Forest College will provide you with a superb education, one which is rich in in-class participation/discussions, professors that are there to help with their open-door policy, and culturally diverse campus. The pre-health track prepares you for your graduate studies through undergraduate research at RFUMS or with LFC faculty. You will become a well-rounded individual during your short time LFC, equipped with the resources, knowledge, and lifelong support system to go wherever you desire.