Alec Brent '21: The Good Samaritan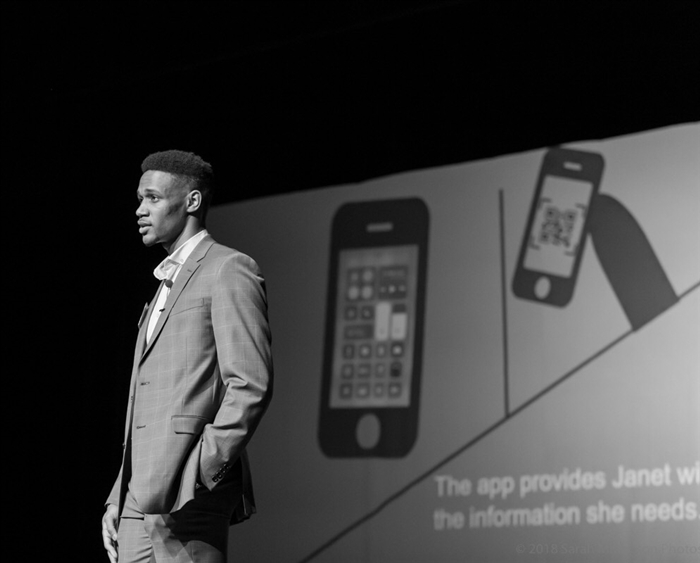 Alec Brent '21 is developing an app called The Good Samaritan. After entering the Forester PitchIt! competition in 2017 and winning the Best Idea prize, Alec has decided to continue working on his innovative app.
Alec is majoring in African American Studies and minoring in Entrepreneurship and Innovation.
Entrepreneurial Project:
The Good Samaritan App is an app where a person can find someone else's phone and make it easier for them to send it back to them and for doing so they can get a reward for being a good Samaritan. Usually when people take your phone, the first thing they do is turn it off, so you can't track it. With this app, instead of turning the phone off, a person could go the route of using the app, returning the phone to the person, and get a cash reward instead of selling the phone off.
What exactly did you propose in the PitchIt competition and how did you come up with the idea?
I presented an idea that me and my family came up with, it was mostly me and my dad. The goal of the app was to reduce smartphone theft. Even though we have apps like Find My iPhone, they still don't work if the phone is turned off. So, we wanted to create an alternative to that problem.
"Standing up there on stage in front of a bunch of different people was different. It just showed me that if you have the courage, that you can do anything. Now I'm talking to people I never thought I would talk to. The president of the college came up to me and he said he heard my idea and we had a conversation about that. So, I feel like it's whatever you make it."
What is your motivation for developing this app?
I've probably had my phone stolen 3 or 4 times, and it's not fun, it's very frustrating. I've heard heartbreaking stories of people that have lost personal information, and they've been stranded somewhere just because they can't find their phone. I also know people who have found phones and they can't really do anything with it because they don't know who it belongs to. So, I just wanted to fix this problem that has been going on for years.
Entrepreneurs often find problems worth solving. Did you think of yourself as an entrepreneur before engaging with the Entrepreneurship and Innovation program?
No. Actually, when I was working on the project, I did not know how big it was going to be. Still, day-to-day people tell me stories about how the app would have worked or helped if it was there. So now I'm kind of going through an entrepreneurial process, I don't know if that's what it is, but that is what it feels like.
How has this process impacted your self-image?
PitchIt specifically took a lot of preparation. Standing up there on stage in front of a bunch of different people was different. It just showed me that if you have the courage, that you can do anything. Now I'm talking to people I never thought I would talk to. The president of the college came up to me and he said he heard my idea and we had a conversation about that. So, I feel like it's whatever you make it.
How have you gained more confidence in selling yourself and your ideas?
Before, I didn't really talk much, didn't really ask questions, and I didn't really ask for help when I was in high school. Once I got here, I wanted to change, so I immediately started looking for programs to get into and that's when I found Professor Thomas. A lot of faculty members helped me. From that I was able to get a head start, I was the only freshman who was in the PitchIt competition.
Professor Thomas, specifically, has been helpful in giving me direction, and pushing me to talk to people I wouldn't think of talking to. I've talked to people who have stolen phones, which gave me a lot of valuable information and helped me narrow down on what I want to do.
Knowing that you were the only freshman competing in PitchIt, was that nerve wracking at all for you?
The pressure was on, especially when Professor Thomas made a point of announcing it too.
What was the biggest challenge you faced in getting people to help you with getting you app started?
Just explaining the story. My app is kind of confusing in just explaining how it works so I've developed an elevator pitch to help get my story across. If people actually know what you're trying to do, it makes it a lot easier when you ask for their help.
What resources do you still need to officially launch The Good Samaritan App?
A number of things. I've started going through the legal processes, which is very important. But before we even do that, I need to develop the app. Right now, I'm in the research phase, asking people questions, collecting data. In some of the classes I'm in right now I actually have a group of people helping me do that. I'm really just in the ideation phase right now.
Have you found that asking people for help has been a challenge? Why or why not?
There's always that thing where you think no one has time, so you don't really want to ask. But if you do ask then they end up telling you a story that you would have never got. So, asking definitely helps, and it also helps narrow down what the problem actually is.
Entrepreneurs often need to know how to reframe failure as a usable data. What failure throughout this process has helped you the most?
There are just some moments where I just don't know where to go next and that is tough. You don't really want to ask for help all the time because you feel like you're too needy. But you just have to keep pushing through it. It is tough when you hit brick walls and you don't know what to do. A failure for me, there were a lot more people I could have talked to but I just didn't, and there were a couple of different ways I could have sped up the process but I waited. I want to take the project through the school, it's the best way to build something instead of going out on your own.
If you could ask anyone for anything, and get it, who would you ask and for what?
I really would like to see a team over at Amazon because they have these lock boxes where you can put an item in, close it up, and someone else could pick it up. This would be cool for the app because if you find someone's phone you could just drop it in the box and they can come pick it up later. Everything that Amazon is doing is so innovative and forward minded.
Who have you asked, and for what? Did their answer surprise you?
I talked to a lawyer about patents because I didn't think I could do anything to help protect the idea. He actually gave me a lot of helpful information about saving all the necessary documentation that will help in the long run.
What has been the most valuable lesson for you whilst working on the app?
I've learned to just take on every opportunity. I think that sometimes we get in lulls, we don't feel like doing anything, or talking to and meeting people. At the end of the day you'll feel much better if you do it anyway.
What is the hardest part about being an entrepreneur while still in college?
Just that. Doing both at the same time is tough, in addition to playing sports. There are times when I haven't touched the project in a week or so and there are times when I get so into it that I forget that I have a homework assignment due the next day.
Are you planning on entering other national competitions with this business idea?
Hopefully. In the Spring, we can go to the bigger competitions at different schools. Going to these competitions will have better opportunities
What's the overall entrepreneurial experience been like for you?
It has been tough, especially emotionally. You think to yourself, can I really do this, is this actually going to work? That comes and goes a lot. There are times when things are moving so slowly, and then there are times when things are moving so fast and you don't even know if you can handle it. It's been a rollercoaster.