Molly Gottfried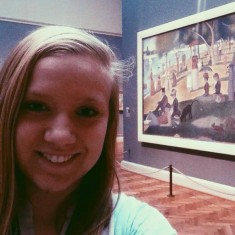 Class Year
2016
Area(s) of Study
Majors: art and communication Minor: cinema studies
Internships
Membership intern at the Art Institute of Chicago
Achievements
Attended the semester-long off-campus study Lake Forest College In The Loop Program.
The art and communication double-major and cinema studies minor works two days a week at the downtown Chicago art mecca in the membership department, where she coordinates travel, writes and edits communication pieces, and plans special on-site experiences.
"I've been coming to The Art Institute since I was a child. Lake Forest College has only added to that passion, because I've had many class field trips there," she said.
It was on one of those trips that Gottfreid realized she'd like to work at the world-famous art museum. After researching the possibility, Gottfreid collaborated with her communication internship advisor, Helene DeGross, on the application process. "She was very helpful in making sure I stayed organized," Gottfreid said.
Now that she's there, Gottfreid takes full advantage of her Chicago experience. "I am learning more about my own skills, and my confidence has grown each day that I intern." 
She's even taking time to broaden her art knowledge. "I pick a new painting every day and spend time learning everything that I can about it," she said. "It's been a great way to become more familiar with the collection."
This "just simply amazing" experience has given Gottfreid valuable career direction, she said. "Everything that has happened so far in my Lake Forest College experience has led me on the right path to achieving both my academic and career goals."
The College's Center for Chicago Programs sponsors more than 230 course trips to the city during the academic year, and dozens of students intern in the city every semester.