Charlotte Jackson '19 excels with CAC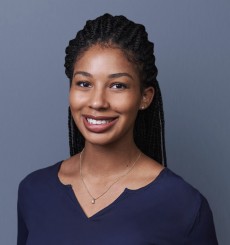 Charlotte Jackson '19 started working with the Career Advancement Center early in her time at Lake Forest College. Her efforts throughout her four years at the College helped the economics major land a great job after graduation.
Charlotte took advantage of the College's liberal arts curriculum and gained critical thinking skills to take an active role in her job search.
Now, she's an associate consultant at Axiom Consulting Partners in downtown Chicago. Charlotte's experiences with the CAC and other events at the College helped kickstart her career:
Q: How did your education at Lake Forest College and the support you received from the CAC help you stand out in your job search?
A: I felt that the CAC prepared me for professional conversations by the time I was a senior. I remember the first professional conversation I had in college with someone who was very distinct in their career when I was a sophomore. I felt awkward, but that was an important learning experience I got early in my academic career. All the practice I received from that point on set me up for success when I was interviewing for full-time positions as a senior. 
Q: How did the CAC help you with your job search before you found your full-time job?
A: I expressed interest in the consulting industry with my career counselor. From there, we began researching what contacts the College had in Chicago through the Alumni Network. These contacts helped me find my internships, and eventually those internships helped me find my full-time job.
Q: What did you find as key to having a successful partnership with the CAC?
A: I found that you need to put in the same level of effort as the CAC. You need to actively apply for positions, get your resume in order, and be okay with having multiple drafts of your resume. The CAC can show you the steps that you need in order to be successful, but you must be the one to take them. Students can't expect that their career counselor is going to do everything for them; the work needs to be mutual.
Q: What does a successful job search look like?
A: You need to use your personal network as opposed to being one person in a stack of resumes. There are a lot of opportunities and events on campus where you get introduced to people who are part of the College's network and really do help wherever you are in your academic career. I found a lot of value in utilizing those events. 
Q: What advice do you have for current students on how to help set themselves up for success? What should they be doing now?
A: It depends on where they are in their academic careers. If you're a first-year or a sophomore, I would focus on learning. I know it sounds funny, but you'll be successful anywhere if you can understand how to learn and pick up on new things. Juniors and seniors should 100 percent be utilizing the resources that are available to them: the CAC, their professors, and events on campus. These resources are invaluable to students and their own job search.
—Peter Dipietro '20