Michael Janeček '18 publishes review paper as first author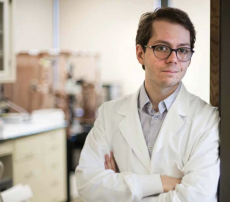 Neuroscience research Michael Janeček '18 conducted this summer in collaboration with Dr. Joanna Dabrowska of Rosalind Franklin University of Science and Medicine (RFUSM) culminated with a published paper.
Janeček and Dabrowska co-wrote the extensive paper reviewing the role of neuropeptide oxytocin in fear and anxiety, which was recently published with Janeček as first author. Click here to read the collaborative work of Janeček and Dabrowska.
For his work, Janeček earned the Phi Beta Kappa Senior Thesis Award—the most prestigious research award at the College, rarely awarded for off-campus student research. He became a RFUSM Scholar through the College's connection with the university, and is currently using the experience he gained as he pursues his PhD at the University of Pittsburgh.
Read more about Janeček's experience writing and publishing his paper below:
Q. How did your research experience at the College prepare you for your work at RFUMS?
A. In addition to providing an indispensable experiential component, biology and psychology labs at the College helped me understand how to design experiments and ask good questions. This focus on building transferable skills made it easier to take ownership of my work at RFUMS without being afraid to fail; after all, science is about failing and understanding why. I also benefited from critical observation taught in the behavioral statistics sequence. The first step in succeeding in a new lab is shadowing researchers, observing, and figuring out how things work.
Q.What did you learn about yourself while working in the lab with Dr. Dabrowska?
A. Over time, I fell in love with the creativity embedded in science, which shaped my future goals. My history advisor told me that you have to find something that seriously interests you and that you will be doing it maybe 20 percent of the time, but you also have to imagine yourself doing other things that might not interest you as much for the remaining 80 percent of the time. This was the first time I stepped into a real, non-teaching lab, so I approached it as a trial run. Fortunately, this worked out and ultimately set me on the path to a PhD. The process of getting there was humbling, and I understood what Einstein meant by science requiring a religious drive. I also learned that Dr. Dabrowska's mentoring style worked well for me, and it made me reflect on the kind of mentoring I seek in graduate school and the kind of mentoring I want to give.
Q. How does it feel to have your work published?
A. It feels unreal. Academic publishing is an intellectually privileged arena, and being able to enter it and get my name out there brings me much joy; however, there is also the moral burden of responsibility. Unlike on social media, you are very much accountable for representing findings and making conclusions to the best of your ability. Once you get in, you have to fight for survival in this arena. It also feels awkward to have the aura of an instant "expert" on oxytocin modulation of fear and anxiety, especially if the topic comes up in a casual conversation. At the same time, I do feel more confident and ready to embark on a productive research career, and I am very grateful to Dr. Dabrowska for her continuing support and guidance.
Q. How will this experience coupled with your research work at Lake Forest College help you as you pursue your PhD?
A. My time at Lake Forest College was transformative, and in addition to a solid knowledge and skill foundation, I am bringing with me enthusiasm and interdisciplinary curiosity. Going off the liberal arts model at the College, I want to take charge of my graduate education and tailor it to my needs. This is so I am not naïvely preparing myself solely for a career in academia or getting an advanced degree for the wrong reasons. My work with Dr. Dabrowska definitely helped me transition from undergraduate to graduate research. I also realized it is important to remain open-minded and be okay with learning new things from scratch, even if you feel inexperienced at first. My hope is that I can remain committed to myself and make the most out of my time at Pitt by turning it into another transformative experience, wherever it leads me.