Notes from Abroad: Teagan in Spain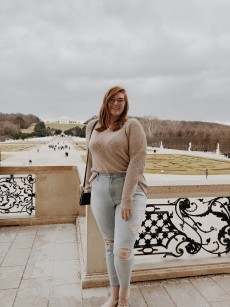 Teagan Wolf '21, a double major in Politics and Spanish, studied at the ISEP program at the Universidad Publica Nuvarra in Pamplona, Spain
Before I even began my college search, I knew that studying abroad was something I wanted to do. This semester I was fortunate enough to study in Pamplona, Spain with ISEP for what I thought would be six incredible months. To say the least, it turned out to only be two incredible months. My new friends and I got a chance to travel to beautiful seaside cities in Spain, beautiful French cathedrals, and we had so much more planned for the warmer spring weather.
People we interacted with in Spain were not worried about COVID-19 at all, so for a while we weren't too worried. We even heard people in our classes at the university say that it was all a media frenzy and that it wasn't a big deal at all, that it was just a hoax designed for economic gains. Life continued very much as normal, but we kept an eye on the number of cases in Spain, Italy, and the U.S.
In the first week of March I took a weekend trip to Vienna, Austria with a friend of mine, and in hindsight I think it was the best part of my study abroad experience. Being able to travel to a new country and to practice my limited German was so much fun and I will cherish every moment for the rest of my life.
When we returned to Spain, we noticed that things had shifted. By the second week of March, several of my friends from the US who were also in the program started getting calls from their parents in the middle of the night; the President had just declared that a European travel ban would be put into place and that they needed to get out before things got worse.
Soon after, the Spanish government announced that it would be putting the country on a lockdown for at least three weeks, and in the US flights from Europe were only allowed to enter through 11 airports. It was then that my family decided it was time to bring me home in order to ensure my safety, and I'm extremely grateful we made that call. After 30 hours of travel, I finally made it home and have been able to continue my studies online since then.
Despite the challenges presented by a global pandemic, I am still so glad that I took advantage of the opportunity to go somewhere else to learn and travel. I made so many friends from all around the world and the memories we made together will not soon be forgotten. I'd like to thank the Speros fund for helping make one of my biggest dreams a reality!
News Contact
Alexandra Olson Coordinator of the Global Engagement Office
847-735-5231
aolson@lakeforest.edu