Notes from Abroad: Shaye in Spain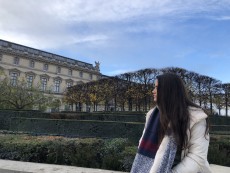 Shaye Gauthier '21, a Finance and Spanish major, has studied at the Universitat Rovira I Virgili in Tarragona, Spain
My name is Shaye Gauthier. I am majoring in Finance and Spanish and am a part of the class of 2021 at Lake Forest College. I studied in Tarragona, Spain, which is just southwest of Barcelona, for the first semester of my junior year. While there, I decided to study Spanish language and English language as well as teach English to local middle school students.
I have just recently returned to Lake Forest and I already deeply miss my home in Spain and my friends. However, I know that I will keep in touch with the great friends that I made and hope to visit some of them soon. These friendships not only helped me grow as a person, but also greatly improved my Spanish conversation skills- a main objective of my trip.
At first, I was very nervous to put myself out there and make friends using my second language skills, but after a few weeks I was able to speak more and more. I would, in general, consider my! self a shy person in social settings, however, everyone that I initially met was also in Tarragona to study abroad so we were all going through the process of making friends together. Additionally, I only met one other American in my entire time in Spain so I really did not have any form of safety net to consistently revert to English. All of these factors really pushed me to practice Spanish more and more and I am very grateful for the push.
Lastly, one of the reasons that I chose Lake Forest College at all was the incredible study abroad opportunities and knowledgeable Global Engagement Office employees. I had a great deal of problems with my initial plans to study abroad, but with the help of the dedicated program advisors I was able to find my new program that I absolutely loved. The GEO connected me with so many great resources including the ISEP Airfare Award that helped pay for my travels to and from Spain. This additional support made it possible for me to go at all and I can't say thank you enough.
News Contact
Alexandra Olson Coordinator of the Global Engagement Office
847-735-5231
aolson@lakeforest.edu