Notes from Abroad: Maddie in Greece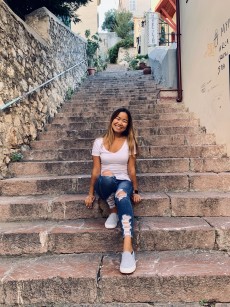 Maddie Strejc '21, who majors in Neuroscience and Psychology and minors in Chemistry, is studying at the American College of Greece in Athens
Hi, I'm Maddie Strejc and I've been in Athens for a few months now studying at Deree at the American College of Greece. Before this trip, I had only been out of the country a few times to South America and England when I was really little. Greece was nothing like any of those places. There are a few U.S. staples like Domino's and Starbucks, and they do drive on the same side of the road here; other than that, it was new territory. The new alphabet was especially hard to understand when I first arrived. 
The college had some familiarity because it's also a private liberal arts institution with a smaller campus making it easier to navigate. There's definitely a different learning style here because the classes are mostly lecture based and there's been no group work or projects so far. Deree isn't heavily focused on science, so while I usually take all science classes at Lake Forest, I've been able to branch out more here. I'm taking Greek mythology, which has been very interesting to learn about in Greece and visit some of the sites they mention. I'm also taking modern Greek 1 which has been instrumental in being able to read and communicate.
For the first several weeks, I stayed in Greece and explored the islands and downtown Athens. Experiencing a country with so much history has been amazing because you get to see ruins mixed with a modern city and seeing the Parthenon in person was remarkable. I definitely struggled with navigating public transit and the area in general but being here has challenged me in a non-academic way making me more equipped to handle change. Studying abroad was something I always wanted to do but didn't think I would be able to for financial and academic reasons. Being a neuroscience major on the pre-med track I thought going abroad would push me behind, but working with my advisors I was able to fit it in. I'm thankful to those who have made it possible financially as well, easing monetary stress and letting me fully enjoy my time here. This experience has been unforgettable and changed me for the better. 
News Contact
Alexandra Olson Coordinator of the Global Engagement Office
847-735-5231
aolson@lakeforest.edu