Zachary Kelvington '17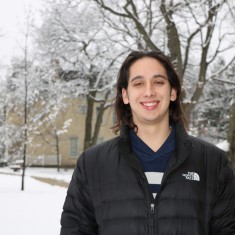 Class Year
2017
Area(s) of Study
Religion Psychology
Co-curricular
Alpha Tau Omega
He wanted to be a Catholic priest, but then started questioning his faith. To find the answers, Zachary Kelvington '17 read the Bible from cover to cover, became an atheist, then decided to study religion in college. 
After taking the class "Does God Exist?" Kelvington found good arguments both for and against God, so now he's an agnostic. Currently writing a senior thesis on the psychological effects of belief in God, this religion and psychology double major from California is a Forester you should know.
Q: What drew you to Lake Forest College?
A: Originally? Football. I am from Southern California and I was looking at continuing to play football at a Division III or smaller school in the Midwest. My dad and I took a trip to the area when I was a junior in high school and visited nine schools, and I just knew Lake Forest was the one. I wanted a small school, because I was born and raised in Catholic schools, which were smaller, and I knew I didn't want to be in middle-of-nowhere Midwest, but I still wanted to be in a small town. I really liked how the campus looked—the architecture and scenery—and I liked how close the train station was, so I could easily catch a train and go to the city.
Q: Have you had experiences here—besides your classes—that have helped prepare you for your future career?
A: I joined ATO [Alpha Tau Omega] my freshman year, and that has helped me out a lot. It's a big reason why I stayed at Lake Forest after my freshman year. I was homesick, as many are on their first time leaving home, but ATO helped me meet a great group of guys and get involved in the school.
Q: What do you do in your free time?
A: I like to play soccer, work—I work as an after-school teacher in Highland Park, and do ATO things, or go to school. I live off-campus with my roommates, who I have been good friends with since freshman year, and we have fun hanging out.
Q: What are your plans after graduation?
A: I am definitely looking at becoming an elementary school teacher. This past summer I started working as an after-school teacher in Highland Park. I love the classroom environment. Ideally, I'd like to teach second grade. I'm looking at different master's programs in education, but I will probably work as a substitute teacher or be an assistant teacher next year.
Q: Any advice for new students?
A: Take classes in what you're interested in and what you love. Don't do what you think will make you the most money. I have friends here who are miserable throughout their years of college because they just want to make a lot of money when they get out. I have greatly enjoyed all four years because I am pursuing what I love.
Q: Parting words?
A: The best part about Lake Forest is the trees!