Yuka Kawata '20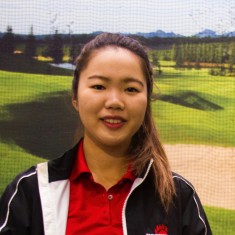 Class Year
2020
Area(s) of Study
Majors: Business and Computer Science 
Hometown
Japan 
Co-curricular
Golf Team 
Japanese Club
Delta Delta Delta Sorority 
Japanese tutor 
What solidified your decision to study at Lake Forest College?
I came to campus in April with my parents to see how it looked, and I really liked the  atmosphere. People were relaxing and studying and I thought Middle Campus was beautiful. I also knew I wanted to study business and be near a big city like Chicago. 
Have you formed any meaningful relationships with faculty at the College?
I love the business professors here. I have Professor Dlabay as an advisor, and he's very helpful because he takes the time to talk to me even when he is busy. He knows who I am, where I'm from, and what I'm involved in, which surprised me at first because he has so many students. He often asks me how Japanese Club is or how golf is going. I think it's really cool that we can talk on a personal level. 
What activities are you involved in on campus, and how do you spend your free time?
I am on the golf team, in the sorority Tri Delta, and I tutor Japanese. Also, I am the president of the Japanese Club, which I started here at the College because I really wanted to show everyone how amazing Japanese culture is. Now, we have more than 75 members. I'm glad so many people are interested in my culture. For instance, we hosted a sushi dinner event and forty people signed up—the maximum number we could serve. I think it's so great that the students here are really interested in who you are culturally, and everyone is really accepting; that is one of my favorite parts of being an international student here. When I do have free time aside from classes and activities, I like to hang out with my roommates, my sorority, or my teammates. I especially like to visit Evanston and Chicago in my free time. Evanston has a lot of good Asian food, and I can take the Metra train directly there. 
What is it like being a student-athlete at the College, and how has it prepared you for a future career?
I didn't know anything about varsity or club sports in America before I joined the golf team here. I didn't know that the school was Division III in the National Collegiate Athletic Association or what Division III even meant. When I arrived here and saw the College had a golf team, I figured I would join. It was one of my best decisions. We practice every day in the fall season at a nearby golf course. Sometimes being a student-athlete can be hard, because it's so time-consuming, but it is worth it. I love being a student-athlete, and I have learned good time management skills because of it. Through athletics, I have learned a lot about planning ahead and meeting deadlines—and I know that skill will benefit me in the future. I used to be overwhelmed by my busy schedule, but now I've learned how to manage it. The confidence I've gained will help me in my future career. 
What experiences have helped prepare you for your future career?
Lake Forest College has a program for athletes called Game Plan, where they host a lot of meetings and events to help us prepare for the future. One meeting we had focused on communicating with people when you meet them and how to build a resumé. Also, the Career Advancement Center, which is open to everyone, is really helpful. The staff there helped me create my resumé and find a summer internship in Tokyo.  
What advice do you have for international students?
First, I think finding your community will really help you transition to Lake Forest College. I recommend interacting with a lot of people. During my first semester here, I joined the Entrepreneurship Club and the golf team. There are so many clubs and organizations on campus. I made a lot of friends my first semester, and they helped me when I needed it; I felt really supported. I definitely recommend going outside your comfort zone, leaving your room, and finding your place. Also, talk to your professors and go to their office hours. They will make time for you. Taking a class with a professor you don't know is vastly different than taking a class with a professor you've come to know well and are comfortable with. 
  –Nina Codell '20