Shang Chen '20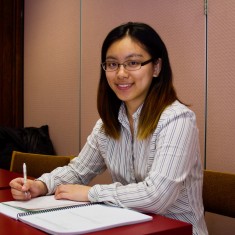 Class Year
2020
Area(s) of Study
International relations major Art history minor
Hometown
Southern China
Co-curricular
Chinese Language Tutor
Japanese Culture Club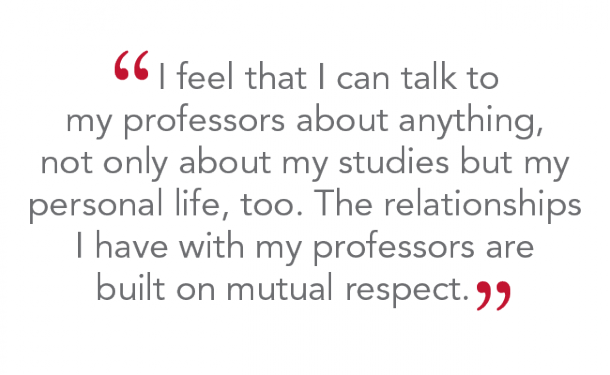 What do you think makes Lake Forest College a great place for an international student?

I really want to prioritize studying and gaining knowledge while I'm in college. I have heard of some big universities having very noisy environments because there are parties every day. I knew a place like that would not be for me. Lake Forest College is very quiet and offers many good spaces to study that help you focus on your homework and classes. However, they do have several social events on campus at any given time. Since there are so many, I don't feel pressured to go to all of them—especially if I need to spend more time on my studies. I feel like I can find a balance. The option to go to social events on campus is nice to have within an environment that focuses on academics. That is a big reason Lake Forest College is appealing to international students.
How has the diversity of the student body helped you or enriched your college experience?

Before I came to America, I was surrounded by Chinese people all my life. After I started attending school here at the College, I made friends with other international students from Africa, Europe, and other parts of Asia. Even though we come from different countries, we are all international students in America and that makes me feel like we have some connection. Thanks to the diversity at the College, I was able to step outside my comfort zone and make friends with completely new groups of people.
Was it easy for you to make friends?

Besides conversations with the professors, I can have good conversations with my friends and classmates that help me socialize. Some people say that international students feel isolated and lonely when they live in a foreign country. But at Lake Forest College, everyone knows each other. I am grateful I made the decision to come to a place where I am comfortable and it is easy to make friends.
How do the faculty help you succeed in the classroom?

During my first year, I was really afraid of failing a course and the consequences that would follow. Every time I met with one of my professors, she tried to encourage me to find the positives in my papers, especially because my English writing was not the best. Despite that, she was able to find the good ideas in my papers and give me constructive criticism in a way that did not intimidate me or make me feel bad about my writing. Through her encouragement, I felt more confident about my writing and I believed in my abilities enough to finally join the class. I really appreciated her support.
Was it easy to find places to eat in Chicago? Was the city easy to explore?

Of course, I miss home and all the food very much. I knew there was a Chinatown in Chicago and I couldn't wait to go there, but it was so much different than home. I was still happy I could experience some motherland culture in that area, and the Chinese food there is so authentic. Michigan Avenue is definitely a place you should visit in downtown Chicago. Its crowdedness makes me feel like I'm in China again.
—Sangjun Hornewer '20