Michael Cohen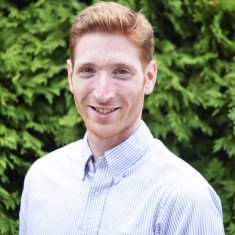 Title
Director of Admissions and Strategic Development
Phone number
847-735-5350
Email
Territories
IL (Deerfield, Highland Park, Lake Forest, New Trier, Regina Dominican, Rochelle Zell, Stevenson, Vernon Hills, Woodlands, Lake Forest Academy, North Shore Country Day, and Loyola Academy)
High School
New Trier High School (Winnetka, IL)
College and Major
BA - Zoology from
Miami University (OH) - Oxford, OH

MA - Student Affairs Administration
Michigan State University - East Lansing, MI
Working for the College since
2016
My life before Lake Forest
Prior to Lake Forest, I was the Assistant Director of Undergraduate Research at the University of Missouri
One word or phrase to describe myself
Top three reasons I would choose to attend Lake Forest College
Individualized attention – The size of Lake Forest College permits students to get to know their professors and peers allowing for strong mentorship throughout the student experience that helps students succeed academically and prepare for their future careers.
Strong community – Everyone is genuinely excited and passionate about being part of the greater Lake Forest College community.
Access to Chicago – Students have the best of both words with the opportunity to have a small campus learning experience while embracing the many personal and professional opportunities offered by living near the largest city in the Midwest.
What character traits do I appreciate in an applicant?
Enthusiasm, motivation, and the eagerness to learn. I like when students have thought about what college means to them, what they want out of their college experience, and what courses, activities, and resources they will seek as they move through their education.
What makes the College unique?
The College has a strong focus on the liberal arts tradition while also providing strong career preparation. The ability for students to have personal relationships with their professors, small class sizes, and the opportunity for internships in Chicago, provides students with the knowledge, support, and experiences necessary to be successful at Lake Forest College and in their future careers.
Tip for the college search
Think about the type of learning environment and community in which you find your greatest successes.
Hint for success
Never be afraid to ask a question. If the question is important for you to have answered, it is always worth asking.
Favorite activity in Chicago
Enjoying Cubs games at Wrigley Field
Favorite place in the town of Lake Forest
The beach – especially early in the morning or later in the evening – the views are fantastic.