Kwasi Akowuah '20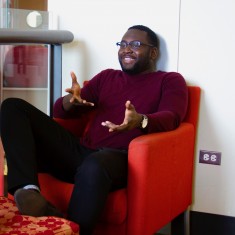 Class Year
2020
Area(s) of Study
Finance major Entrepreneurship minor
Hometown
Ghana
Co-curricular
UMOJA
International Student Organization
Student Programming Board
Investment Club
Black Men's Group
What advice would you give to an international student considering Lake Forest College?
First of all, I would advise them to engage in introspection and know who they are as individuals. From my experience, the College takes you from the person you were before coming and transforms you into someone better. I came here thinking I was an average student, but with help and support from my professors, I became a stronger person. The experience really strengthened my character. To international students coming here, you should know that there's always a support system for you and there are a lot of opportunities for you to grow. I was open to change and therefore able to take advantage of the opportunities presented to me. I only hope the same for incoming international students as well.
What experiences at the College have helped prepare you for your future career?
Aside from classroom experiences, there are definitely a lot of programs that the career center provides to help you get a feel for what you want to do in the future, like bringing speakers to campus or having one-on-one meetings with career advisers who get to know you and help build your trajectory from there. I find all of this very admirable, and it has helped me progress towards a career path. The College offers you so many opportunities to solidify what you want to do, and they help push you towards the right career based on your interests and desires. 
What career-related clubs have you joined?
For business and finance, there are so many clubs—like the Investment Banking Club and the Financial Management Association—that help build your knowledge of the courses that you study in addition to providing outside information.
What do you do in your free time?

I like to write poetry, create artwork, and play soccer with my friends. On Fridays, we play intramural soccer in the gym, which is really fun. In my free time, I work in the mail room, but even when I'm not working I still like to hang out in there. Like I said, the community here is really strong. Especially when you're working on campus you don't feel like you're at work—I feel like I am with my second family. I love to hang out with Donald Stanley and all the other people that work in the mailroom.
—Sangjun Hornewer '20