Jacob Heaps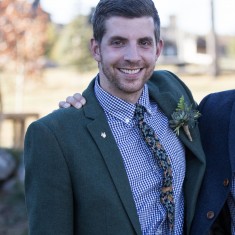 Class Year
2011
Area(s) of Study
Chemistry
Hometown
Saint Paul, MN
Internships
Summer Research with Dr. Martin
Achievements
Co-inventor on two pending patents
Current Job
Research Scientist with Nanoly Biosciences
Past positions
Nanosys Inc., Literacy Coalition of Palm Beach County
How did you choose your area of study?
Originally I wanted to do something in the field of health (Medical or Dental school), but decided that I really enjoyed being in lab running experiments and solving problems. I took a wide variety of courses in the sciences but ultimately found chemistry to be the most interesting to me.
Describe a moment or experience you had in college that helped define your career path.
During the summer between my junior and senior year I did research full time with the department of chemistry. It was the first time I was in the lab 40 hours a week, tasked with a general project and I was able to run experiments to try and solve various problems that had been posed. It really cemented in me the desire to work in a research lab.
What steps did you take in college to prepare for your career?
My junior and senior years I was lucky enough to work as a faculty assistant in the General Chemistry I/II and Organic Chemistry II labs. This really helped me develop the skills necessary to communicate complex chemistry principles and topics in a way that was easy for others to understand. This has helped me immensely in my career as I've frequently found myself in meetings with co-workers in non-science roles who need a basic understanding of the chemistry in my work. In addition, I spent time working with Facilities Management, playing on the Men's Soccer team, and working at a pizza place in town. This helped me really learn to balance my schedule in an efficient manner.
What role did your research experience play in shaping your career path?
The research I did in the summer before my senior year played a crucial role in my career path. Working with Dr. Martin I developed a real understanding of how to approach problems in the lab, and identify key variables that needed investigating.
What would you recommend Lake Forest College students considering a career in your field do to prepare?
To prepare for a career in industry research I'd really suggest starting to look at job descriptions for various positions you might be interested in after graduation. If you are able to work at all in a professor's lab (even if it's only a few hours a week), I'd really suggest taking the opportunity as that was an incredible experience.
How did the Career Advancement Center and the Forester community give you an edge on taking your first steps after graduation?
The Forester community definitely gave me an edge in my first steps. My first year out of college I actually did a year of service with Americorps in Florida where I worked with at-risk high school students. I was a bit nervous after the year was over about going back into lab, but I believe the strong teaching I received at Lake Forest College really helped me get back into it without skipping a beat. The chemistry department did an incredible job at exposing me to various instrumentation in undergrad that some of my co-workers had never used before. This definitely gave me a leg up from the first day.
What have you found the most rewarding in your career and life after graduation?
Being a part of my very first patent was an incredibly rewarding part of my career thus far. To discover something before anyone else and "claim" it is an awesome feeling.
I also really enjoy giving back to Lake Forest now that I've had a successful start to my career. My wife, a fellow Forester, and I are currently serving on the 5-Year Reunion committee for our class, and have pledged to give to the college for the next 5 years. I don't believe my career would have followed the same trajectory were it not for the education I received at Lake Forest College.