Hakob Parsamyan '20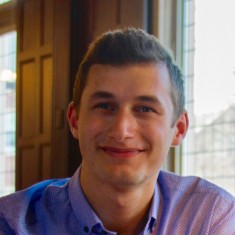 Class Year
2020
Area(s) of Study
International relations and self-designed marketing double major
Hometown
Armenia
Co-curricular
Student Government President
TEDxLakeForestCollege
Resident Assistant
Chicago Ambassador
Omicron Delta Kappa Leadership Honor Society
Richter Scholar
What attracted you to Lake Forest College as an international student?

A large part of my choice to come here was the generous financial aid I received. Another reason the College appealed to me was its proximity to Chicago, which is the third biggest city in the United States. I knew that being so close to a big city would be very beneficial for me, so I chose Lake Forest College. I believed Lake Forest College would give me the opportunity to do internships, work, and conduct research for my courses, and I was right. 
How does the Lake Forest College community benefit from having international students?

There are many international students currently studying here, which attracts other international students. The opportunity for students to interact with other members of the student body who come from other countries and represent many cultures, religions, and nationalities enriches each individual's experience here, no matter if they come from the United States or halfway around the world. Lake Forest College is very welcoming to international students, which assists in building an inclusive, diverse community.
What sets Lake Forest College apart from other institutions?

Life at Lake Forest College means access to a lot of student organizations, involvement in campus life, and many opportunities off-campus to explore the town of Lake Forest and the city of Chicago. There are also many opportunities to study off-campus and conduct independent research with professors during the summer and academic year. I even got to conduct undergraduate research the summer after my first year as part of the Richter Scholar program, a unique independent research opportunity for students at Lake Forest College. 
What experiences at the College have helped prepare you for your future career?
During my first semester here, I got involved in many student organizations, including Model United Nations, where I was the vice president; TEDx Lake Forest, which I personally founded; and Student Government, where I was a senator for the class of 2020 and later elected as president. I was also part of many cultural and religious organizations on campus, which have helped make my college experience even better. From the beginning, the faculty, staff, and other students really encourage everyone to be a part of different student organizations and to take leadership roles within these organizations, even as first-year students. I think these opportunities to take part in student organizations and embrace leadership positions are really helpful in preparing students for their future careers.
How did you adjust to being so far away from home?

The community at Lake Forest College is very welcoming. My transition to the United States was very interesting. When I first came from Armenia, people became friends with me on the first day and I met people who really wanted to make my college experience great during the next four years on campus. They also gave me advice that would help me be a better member of the community. In just two years here, I've felt a lot of support from the faculty, staff, and all the community members. We have many opportunities to gather together in the residence halls, academic buildings, or anywhere on campus, really. The College has a great community and I would really urge anyone who would like to live in a community that is accepting, welcoming, and encouraging of fulfilling your potential to consider coming to Lake Forest College.
—Sangjun Hornewer '20