Fallynn Orusa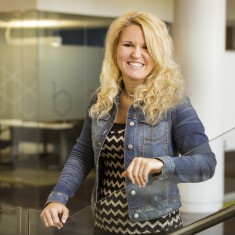 Area(s) of Study
Studio Art and Digital Media Design
Transferred From
Florida International University
Internships
Rolling Stones Magazine in Chicago
Graduate Study
MBA, Lake Forest Graduate School of Management
Current Job
Employer Brand and Creative Marketing at AbbVie
Why did you decide to major in art and art history?
Majoring in art at Lake Forest College was one of the best decisions I've ever made because it really gave me an outlet to apply my creativity. From day one, I was encouraged to color outside the lines and push the envelope, and that's the exact moment I knew art was the right major for me. 
What was your most memorable course and why?
I've always been passionate about digital art and design and made a point to pursue as many digital courses as possible. The great thing about a liberal arts school is that you get the opportunity to try new things and become a more well-rounded individual.
I remember signing up for a 3D sculpture class that required the use of power tools and to this day, I will never forget the look on my mom's 'I need to up your life-insurance policy' face. Priceless. But all joking aside, it was one of the most memorable courses I've ever taken because it took me out of my digital comfort zone and let me explore an additional outlet of creativity that I really enjoyed! 
Was there a particular project or assignment that was especially rewarding or important for you?
I did a project while learning to operate the Adobe Creative Suite that was especially rewarding. For a month, I photographed everything I ate and layered all the photographs within a Photoshop document that I then masked with an overlay of my silhouette. The concept was to convey you are what you eat. This project was very rewarding, not only because it served as an ironically great dietary practice, but it also won second place in a national Adobe contest.
How did your art and art history major prepare you for your career?
An art degree prepared me for my career most by teaching me to think outside the box and take a creative approach to problem solving. Being able to visually depict a message has been an incredibly helpful and valuable skill set that I use on a daily basis. 
How did your art-related internship prepare your career path?
I did two internships while a student at Lake Forest – one at a local design firm and another at Rolling Stone Magazine. Both were great at allowing me first-hand experience on how to translate what I learned in the classroom to how it applied in the corporate world.  
How would you describe your transition from Lake Forest College to post-graduate life?
The teachings and preparations I received from Lake Forest greatly prepared me for the transition from college-life to career-life. After graduating and entering into a full-time career, I decided to pursue my MBA and found incredible value in the time-management skills I developed while studying at the College.
Learning to deliver creative projects within a set timeframe has also been of great value in my current role. 
What advice do you have for current or prospective students considering study in art and art history?
Don't let anyone ever tell you that 'you can't get a job with an art degree'!  I once had a woman abruptly and sharply end an interview with me because she felt I was too creative and bubbly for the role. This completely crushed me at the time, but now serves as a staple in my career.
From that point on, I was determined to prove her wrong and pursue a career in which my creativity would be celebrated – and I did just that. I now work for a Fortune 200 company that not only sees value in my creative edge, but the support and excitement I receive from my team makes me excited to come to work every day!