Alyssa LaCapra '18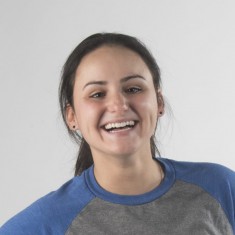 Class Year
2018
Area(s) of Study
Major in Business
High School
Palatine High School
Transferred From
Harper College
Current Job
Retailer CX Representative at Drizly
What activities are you involved in at Lake Forest College?
I'm in Women in Business, WMXM-FM where I'm the treasurer, and the American Marketing Association, where I'm the fundraising director. I also worked in the Career Advancement Center reaching out to alumni on their post-graduation surveys.
Why did you choose to attend Lake Forest College?
My parents knew about the College, so I always had it in mind. When I visited campus, I met Joe Chmura in the Career Advancement Center and a professor. It was then that I realized this school was going to invest in me as much as I was going to invest in the school. I knew coming in that my goal, in the end, is to get a good job. There are a lot of networking opportunities here that I knew would help me achieve that goal.
What was the deciding factor that sold you on attending Lake Forest College?
I felt like I was going to get help—help with my resume and how to build it and that I was going to be introduced to a lot of great people who could help me reach my career goals.
Did you feel welcome as a transfer student?
I felt extremely welcome as a transfer student. I'm also a commuter. Everyone is very nice. I participated in First Connection—a pre-Orientation program for incoming students—before my first semester here, and that was awesome. I was the only junior in the program, but that was okay. I still met really cool people.
Have you had a for-credit internship?
Yes, I was a human resources intern three days a week for Kirkwood Chicago, a consulting and marketing firm.
What advice would you give to a student considering transferring to Lake Forest College?
Come to Lake Forest College if you want a school that really cares about you and your success after college. We all kind of get lost in classes and getting good grades, but what's really important is where we are afterwards. Lake Forest takes a lot of care in where you end up and keeping in touch with you long after you graduate. 
Do you have a professor on campus who mentors you?
My advisor, Professor Tuttle, was very welcoming, right from the start. She's very easy to talk to and really heard me out. That was important to me, especially as a transfer student. I was kind of nervous. She's really understanding and very helpful.