Young alumna's research on social fear learning published in well-reputed behavioral neuroscience journal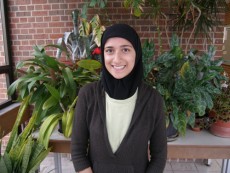 Shabana Yusufishaq's collaboration with Dr. Amiel Rosenkranz, an assistant professor at Rosalind Franklin University of Medicine and Science (RFUMS), was an opportunity for the 2012 graduate to merge her studies in biology and education while at Lake Forest College.
Now a fifth grade teacher at the Islamic Community Center of Illinois, Yusufishaq at the time was a junior working on her thesis. She traveled to RFUMS about once during the week and again on weekends to complete her research observing rats to determine what role social isolation plays in the development of social fear learning. The research was published in January in Behavioural Brain Research.
"I wanted to make sure my research incorporated some aspect of learning and memory in it, because that way I could somehow branch off into humans and how they learn," Yusufishaq said.
Typically, undergraduates complete research in teams and are published with multiple co-authors. Yusufishaq, however, is the only student author of this study.
"It's indicative that the research really was her own," said Rosenkranz, who described Yusufishaq as independent, hard working, and bright.
Yusufishaq started her relationship with RFUMS the summer after her first year at Lake Forest College, after learning about the partnership between the two institutions from Professor of Biology Shubhik DebBurman.
"Undergraduate research is a key career development ingredient that helps science majors develop their professional edge," DebBurman said. "Shabana is a role model for the college's highly successful Lake Forest College-RFUMS summer undergraduate research fellows program."
DebBurman said Rosenkranz is "particularly gifted at bringing the best work out of our students," as some of them are now in diverse PhD programs in neuroscience and psychology. More than 40 students have taken advantage of this research fellows program since its installation in 2009.
Yusufishaq, too, is appreciative of her time working with Rosenkranz — even when it meant dealing with rats and their "creepy crawly tails." 
"Just learning the information is not as great as actually being able to solve problems through experimentation and figure out what went wrong, what we did correctly, and how we can improve," she said.
Speaking on behalf of her classmates, she added that research opportunities both on and off campus helped her peers determine what particular aspect of science interested them.
News Contact
Kellie Doyle
doyle@lakeforest.edu
847-735-6177
Related Links: