Yoan Ganev '19 earns national grant to research Parkinson's disease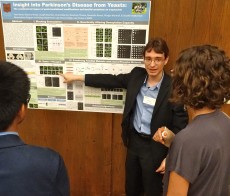 Yoan Ganev '19 has his summer set. The neuroscience and chemistry double major earned a $5,000 research grant from the prestigious Parkinson's Foundation-American Parkinson Disease Association Summer Student Fellowship for a 10-week study, making him the latest Forester to earn a prestigious grant to conduct meaningful research as an undergraduate student.
Ganev will continue his research this summer on how familial mutations and chemical modifications on the Parkinson's Disease protein alpha-synuclein influence each other to create and control its toxicity.
"I'm hoping that through this research we can describe roles various modifications of the protein that misfolds to create Parkinson's pathology," Ganev said of the research he's conducting in the lab of Disque D. and Carol Gram Deane Professor of Biological Sciences Shubhik DebBurman. 
"When I was a freshman, I had the opportunity to work on Parkinson's Disease in Dr. DebBurman's lab through the Richter Summer Scholar Program," Ganev said. "That's how I spent my first year of research at Lake Forest College. I liked it so much, I continued." 
Eventually, Ganev hopes to obtain an MD-PhD degree, possibly becoming a general practitioner or an oncologist. He knows the research experience at Lake Forest College will help him "combine my aspirations for medical school with the dedication I have for research," Ganev said.
Ganev will travel to present his findings to other researchers. He's already on familiar ground here, having earned first place in the undergraduate poster competition at the premier pharmacology gathering in the Midwest in June 2017. He's headed to San Diego In April to present the same research at the annual national meeting of American Society for Biochemistry & Molecular Biology.
He'll also use the research he completes this summer in his senior thesis in neuroscience. "Everything I've done so far in the lab I'll be able to include in my senior thesis and build upon it," he said. "That's my ultimate goal."
Ganev is the sixth Forester since 2003 to receive the prestigious Parkinson's Foundation grant, which has helped past recipients achieve the next step in their academic career: Isaac Holmes '05 received his MD from Rush Medical College and is a physician in New York City; Lokesh Kukreja '08 received his PhD from Northwestern University, where he is currently a senior scientist with Protocol Link, Inc.; Michael Fiske '10 is pursuing PhD studies at Northwestern and received a National Institute of Health National Research Service Award; Natalie Kukulka '13 is pursuing MD studies at the University of Missouri; and Emily Ong '17 is applying for medical school this year.
Of the twelve fellows selected nationally for the funding out of nearly 40 medical, graduate, and undergraduate student applicants, Ganev was the only undergraduate from a small college.
DebBurman noted that the early access to undergraduate research that Lake Forest College provides through signature programs like the Richter Scholar program, along with the research-rich life sciences curricula, helps students like Ganev and past grant recipients gain the intellectual and professional edge that makes them stand out as regularly as they do in international-level competitions.
Related Links: