World in 2050 winners announced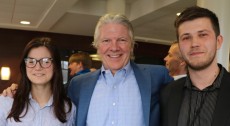 The winners of Lake Forest College's 2018 The World in 2050 competition were announced at the Student Symposium's closing ceremony on April 10 and were invited to perform or screen their winning work.
The winners best answered the following question: what will the world of the future hold at the half-century mark? Top finishers were Almedin Smajlovic '18 followed by Olga Gutan '19.
Smajlovic won 1st Place for "World 2050," a song he composed and played at the closing ceremony. Gutan won 2nd Place for "The World Goes Green," an essay she wrote on the future of plant life.
The competition was judged by a panel of Lake Forest College faculty and trustees, including Lake Forest College Trustee Liam Connell, sponsor of the contest.   
This year, the contest also had a high school division that accepted entries from Lake Forest High School, Deerfield High School and Highland Park High School students. The top winners in that category were:
Winners of the 2018 World in 2050 contests for Lake Forest College and neighboring high schools.