Vetting her options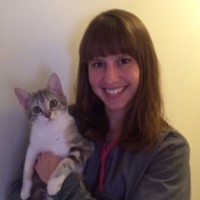 Kayla Ahlstrand '12 was accepted into four veterinary medicine schools. Which one did she choose?
In her applications to veterinary medical schools, Kayla Ahlstrand '12 referred to her research and internship experiences while a student at Lake Forest College. The result: four acceptance letters. Her decision: University of Wisconsin-Madison.
UW-Madison was Ahlstrand's top choice for its reputable program and its pedagogical practice of collaborating with graduate departments in human medicine. The university only accepts 27 out-of-state applicants into the veterinary program each year, so receiving its letter of congratulations was prime. 
"In my application, they asked what I would bring to the program that no one else would," said Ahlstrand, who double majored in biology and neuroscience at the College. "I mentioned my passion for neuroscience and how that evolved during my time at Lake Forest. I told them I wanted to connect what I learned about neuroscience to veterinary medicine."
In accepting UW-Madison, Ahlstrand turned down offers from Iowa State University, Michigan State University, and University of Missouri as well as an interview with University of Illinois at Urbana-Champaign.
When she enrolled at Lake Forest College, Ahlstrand knew she wanted to do something with science but figured it would involve human medicine. She took advantage of all the right opportunities, such as conducting research in the neuroscience lab of Professor of Biology and Neuroscience Program Chair Shubhik DebBurman and becoming a published co-author with Associate Professor of Psychology Matthew Kelley. 
"Then, the summer before my senior year I decided to explore something new," she said. "I'd always loved animals and I love science, so I got an internship at a local animal hospital, Preiser Animal Hospital in Northbrook."
She worked with internship supervisor Lynn Westley, assistant professor of biology, to secure the placement for credit, and spent the semester shadowing and learning about physical restraint and disease and vaccines. 
The experience changed the course of Ahlstrand's professional future. 
"I like the science behind veterinary medicine. It's so hard to figure out what's wrong with an animal…you have to take all of these clues and put them together to diagnose," she said. "I also love the human-animal bond and want to learn more about how veterinarians contribute to society."
Ahlstrand aspires to practice like the veterinarians at Green Bay Animal Hospital in Wilmette, Illinois, where she has worked full-time as a veterinary technician since graduating from the College in May 2012. Her responsibilities include assisting doctors with physical exams and surgeries and calculating drug dosages.
She plans to practice on small animals, but it's too early to say if she will continue on with her education after UW-Madison for further specialization.  
Ahlstrand says she is thankful for her close-knit relationship with her advisers and professors, including DebBurman and Kelley.
"Having them as big supporters really helped when I was applying to vet school, and they wrote great letters of recommendation," she said.
She also is appreciative of her opportunities to be a leader at the College, such as serving as captain of the cross country team and president of Beta Beta Beta, and for all of her experience in presenting and communicating.  
"I feel like it helped make me a very well-rounded person in life in general," she said. "When you apply to a graduate school, they want someone who is well-rounded with many research experiences and who can communicate well with clients. I feel like I was able to gain experiences that I may not have been able to attain at some larger university."
News Contact
Kellie Doyle
Assistant Director of Communications and Marketing
doyle@lakeforest.edu
847-735-6177