Two Foresters earn awards at conference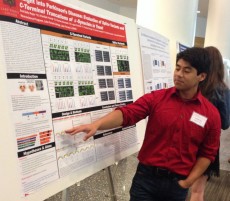 Saul Bello Rojas '16 and Rachel Granberg '16 won the second and third prizes, respectively, among undergraduates for their research at the 28th Annual Great Lakes Chapter of the American Society of Pharmaceutical and Experimental Therapeutics meeting.
Bello Rojas '16, an Atlanta (Georgia) native, had suffered a concussion senior year in high school. He chose Lake Forest College three years ago because he wanted to study neuroscience and one day help treat concussions and reduce sports-based injuries that athletes suffer. Bello Rojas was initially intent on becoming a physician, but after conducting undergraduate research at the college, he became fascinating with the molecular biology underlying brain function and dysfunction and hopes to create better medicine through basic biomedical research after first getting a PhD.
Granberg '16, a biology senior from Cincinnati (Ohio), conducted her award-winning research on the neurobiology of addiction in Dr. Kuei-Yuan Tseng's pharmacology lab at Rosalind Franklin University of Medicine and Science. She is one of nineteen students working with RFUMS faculty this year as part of the LFC-RFUMS Summer Scholars Program. Granberg hopes to be a physician and has applied for medical school this year.
GLC-ASPET is the Midwest's professional pharmacology society. Its members conduct basic and clinical pharmacological research and work for academia, government, large pharmaceutical companies, small biotech companies, and even not-for-profit organizations throughout the Midwest.
Bello Rojas' award-winning presentation is based on his senior thesis in Professor of Biology Dr. Shubhik DebBurman's Parkinson's Disease lab, and he led the collaborative effort of a talented undergraduate team that includes Natalie Kukulka '13, Katrina Campbell '14, Khadijah Hamid '16, Charles Alvarado '16, Logan Graham '17, Peyton Schrag '17, and Paul Jones' 18. They expect to complete this work next year and prepare it for future publication.
When Bello Rojas was asked what motivated him to dedicate three years to undergraduate research? His reply: "I've gained a sense of determination and persistence. In research, you don't always get the results that you want, so it requires a lot of effort, troubleshooting, and at times repetition. So, you need to have a strong work ethic and not be discouraged if you get negative results. Undergraduate research has prepared me for post-graduate goals because I want to receive my PhD. It's also provided me with a certain skills set and a foundation to build off of in graduate school."

Bello Rojas is also driven by the opportunity to delve deep into understanding a complex medical problem so early in his education: "I'm focusing on new versions of alpha-Synuclein (C-terminal truncations and splice variants), and not much is known about them. As a result, I'm trying to characterize their properties and compare them to the normal version of the protein, so my research provides insight into how the protein works and see how these different versions may contribute to diseases like Parkinson's."
Bello Rojas attributes the role of peer mentors to his professional recognition: "I think that I did well at the poster competition because I prepared well for it. My friend and mentor, Wase Tembo, helped me master a lot of the techniques used to collect the data for the poster, so I felt very knowledgeable of the work I was presenting. So, I have my friends to thank for their support."


Thirteen LFC students doing research at LFC or RFUMS attended the meeting.A total of thirteen Lake Forest College students engaged in summer research at the College or at RFUMS attended the meeting.
Biology senior Morgan Marshall '16 presented a research poster on her ongoing senior thesis on the role of nitration in Parkinson's disease. 

Neuroscience sophomore Viktoriya Georgieva '18 presented her Richter Scholar research, which she just completed at the end of her first year at the College. She is already developing her edge, as she not only enjoyed her first taste of scientific research, but she also got the chance to attend her first scientific conference. She shares, "Conducting undergraduate research is important because it enriches students' experience by allowing them to apply what they learned from a textbook in a hands-on experience. Furthermore, students can get a real understanding of what it feels like to work in research field."
Its far from fluke that Lake Forest science students garner frequent recognition at professional venues. DebBurman emphasizes that the science curriculum instills scholarly inquiry and a high level of professionalism. "We are all deeply motivated to train our students to think and work like scientists," he said. "Preparing them to excel at presenting their scientific discoveries at professional conferences like GLC-ASPET is simply the icing on the cake."
Past Lake Forest College Winners at GLC-ASPET:

2014

Charles Alvarado '16, neuroscience and education major, won the First Prize and and will pursue a Masters of Art in Teaching (M.A.T.) degree from Lake Forest College after graduation.

2013
Maiwase Tembo '15, biology and neuroscience major, won the First Prize and is pursuing her PhD in life sciences at the University of Pittsburgh.

2012
Katrina Campbell '14, biology major, won the second prize. She is an NIH IRTA Fellow at the NIH-NIAID Rocky Mountain labs and plans to pursue a PhD in neuroscience in the future.

2011
Keith Solvang '11, biology major, won the first prize and is pursuing his MD at Rosalind Franklin University of Medicine and Science.

Pascal Accoh '12, biology and neuroscience major, won the third prize and has received his Masters degree in Public Health from Southern Illinois University.

2010
Alina Konnikova '11, biology major, won the first prize and received her M.D. degree from the University of Illinois Chicago Medical School. 


Ashleigh Porter '11, biology major, won the second prize and received her M.D. degree from Wayne State University Medical School.  

Natalie Simak '11, biology and psychology major, won the third prize and is attending medical school at Rosalind Franklin University of Medicine and Science.


2009
Daryn Cass '10, biology and international relations major, won the third prize. She is now attending medical school at Rosalind Franklin University of Medicine and Science.

2008
Alexandra Ayala '09, biology major, won the first prize. She is now a math and science teacher with Teach for America in Houston, Texas.
News Contact
Shubhik K. DebBurman, PhD
Professor of Biology and Neuroscience, Lake Forest College
Ph: (847)-735-6040
Email:
debburman@lfc.edu