The brain, race, and theater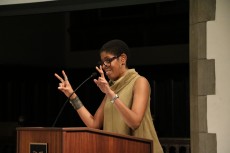 In a highlight of Brain Awareness Week, playwright and author Lydia Diamond discussed how she brings neuroscience to other disciplines like theater.
Diamond opened her lecture, November 8, with a monologue from the protagonist in her play, "Smart People," where the character explained his findings about human's neurological responses to race.
The play, set at Harvard University, focuses on the character of Brian White and three other intellectuals who struggle to cope with inherent biological prejudices toward race.   
Diamond then explained she got the idea for the play from articles on the brain's ability to dehumanize certain images of poor or homeless people. This caused her to think of how she has felt invisible or ignored as a black woman throughout her life. 
Diamond concluded her lecture by discussing the impact neuroscience has on society in many different ways, especially in theater and the humanities. "I look forward to what you do next that will help us know ourselves better," she said to the audience. "Thank you for the work that you all do."
The Mind and Society Dialogue, which was co-sponsored by the English, theater, African American studies, and neuroscience programs, as well as the Office of Intercultural Relations and the Mojekwu Fund, focused on the impact neuroscience has on society.