Students win awards to attend a national meeting and present scientific research, education, and outreach done at the college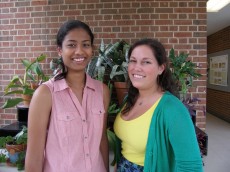 Daniella Brutman '12 and Madhavi Senagolage '12 have received prestigious awards to attend the 2011 Society for Neuroscience meeting at the nation's capital and present three quite different types of scholarly undergraduate activities they conducted at Lake Forest College that integrates undergraduate science education with biomedical research, community outreach, science journalism, and leadership.
Daniella Brutman '12, a senior from Vernon Hills (Illinois) with majors in biology and neuroscience, has received the 2011 Brain Awareness Week Travel Award from the Society for Neuroscience given to just one undergraduate each year for leading efforts at an academic institution to raise awareness of neuroscience issues within the community and with the public. She will present the Fall 2010 Lake Forest College Brain Awareness Campaign at the annual SFN Meeting being held in Washington DC from November 11-16, not only at the meeting's "History, Teaching, Public Awareness, and Societal Impacts in Neuroscience" poster session, but also during two additional special events at this meeting: its Annual Brain Awareness Campaign Event and the Faculty for Undergraduate Neuroscience (FUN) Social.
Brutman submitted her poster entitled "RAISING BRAIN AWARENESS: Integration Of Undergraduate Curriculum With Public Education & K-5 Outreach at Lake Forest College" award consideration, in her capacity as the past and founding President of SYNAPSE (Lake Forest College's neuroscience student organization), and as a peer teacher and as a student in two courses that helped organize this week-long event. She is currently conducting her senior thesis research in neuroscience in Assistant Professor of Cell Biology and Anatomy Dr. Michelle Hasting's lab at Rosalind Franklin University of Medicine and Science and plans to attend medical school in the future.
Brain Awareness Week is an innovative academic outreach program for the college community and the public collaboratively organized annually by students of SYNAPSE, with contributions by the First-Year Studies Program and the Neuroscience Program, the Biology Department and Psychology Department. In 2010, in addition to the week-long community and public outreach, the student-led campaign also initiated a unique K-5 academic outreach on Nov 30 and December 2 with two local elementary schools thorugh the college's North Chicago Partnership Program.
Madhavi Senagolage '12, a senior from Colombo (Sri Lanka) with a major in biology and minors in neuroscience and chemistry, has received both the 2011 Society for Neuroscience and the FUN Undergraduate Travel Awards to present two quite different posters at the annual SfN meeting.
Senagolage's first poster is on her senior thesis research in biology on the mechanisms underlying the Parkinson's disease pathology that she is conducting under the supervision of Associate Professor of Biology Dr. Shubhik DebBurman at Lake Forest College.  Her study is entitled "Complex Regulation of α-Synuclein Properties in Yeasts by Endocytosis Pathway Genes" is part of a larger body of work she has helped complete as a research manuscript this year as a co-first author. This work also features the recent senior theses and research projects of several Lake Forest alums Jessica Price '06, Mithaq Vahedi '08, Alexandra Ayala '09, and Jaime Perez '10. Previously, Senagolage received a similar travel award to present initial progress at the 2010 American Society of Cell Biology meeting. In March 2011, she received the Second Prize among undergraduates at the 2010 Chicago Society for Neuroscience Meeting. Madhavi is currently applying for PhD programs in biology.
Madhavi will also present a second poster entitled "Seven years of EUKARYON: An Undergraduate Scholarship Journal That Supports Inquiry-Based Pedagogy & Strengthens a Community of Undergraduate Scholars" as the current publication board chair in the student editorial board of Lake Forest-based innovative prize-winning undergraduate academic publication EUKARYON. This poster will be presented in SfN's "History, Teaching, Public Awareness, and Societal Impacts in Neuroscience" poster session and has several other co-authors, including current and past Eukaryon student leaders Saajidha Rizvydeen '12, Alina Konnikova '11, Michael Fiske '10,  M., Shaun Davis '09, Shruti Pore '08, Michael Zorniak '07, and Katrina Brandis '06, and professors of Biology, Dr. Pliny Smith, Dr. Sean Menke and Dr. DebBurman, who have served as current and past advisors of EUKARYON.
As part of their honors, both students will each receive $750 at the annual SfN meeting in November at a special SfN/FUN reception. They were each chosen by a panel of SfN and FUN members on the basis of the importance and originality of the project, their contribution to the project, and their potential in science and education.
According to its website, the Society for Neuroscience (SfN) is a nonprofit membership organization of scientists and physicians who study the brain and nervous system. Since its inception in 1969, the Society has grown from 500 members to over 40,000. Today, SfN is the world's largest organization of scientists and physicians devoted to advancing understanding of the brain and nervous system. It holds the SfN annual meeting each fall, attracting more than 30,000 attendees from around the globe and creating the world's largest forum for emerging research on brain science and health.
Related Links: