Students talk with Nobel Prize-winning scientists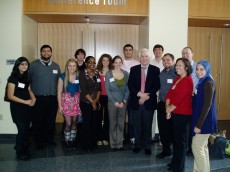 A group of thirty-eight science students and faculty took a trip to attend the fourth annual Oliver Smithies Symposium at the University of Wisconsin in Madison on Thursday, May 19.
This year's speakers were 2000 Nobel Prize winner Dr. Eric Kandel, 1997 Nobel Prize winner Dr. Stanley B. Prusiner, and 2009 National Medal of Science winner Dr. Susan Lindquist. They spoke about their unique research efforts.
Thanks to the connections from Lake Forest alumni Jessica Price '06 and Michael Zorniak '07, the group was able to personally meet and talk with each of the presenting scientists, which was especially exciting for the handful of students that role played the same scientists during this year's NeuroFrontiers workshop. They also enjoyed lunch alongside University of Wisconsin graduate and postdoctoral students, a unique opportunity for them to network with their future colleagues.
"At Lake Forest College, students are frequently exposed to expert scientists through on-campus seminars and Chicago area and national scientific conferences," said biology professor Dr. Shubhik DebBurman. "Yet, its rarely, if ever, do our students sit and down and directly talk on scientific ideas and career aspirations with Nobel prize winning scientists. That is the unique opportunity our students got by attending the 2011 Oliver Smithies Symposium. It's humbling and inspiring for our students to have these interactions with the sharpest scientific minds, especially for our eager first-year science students who are getting their first taste for research in our various labs this summer."
The Symposium is made possible by a gift from Dr. Oliver Smithies, the 2007 Nobel Prize winner for his discoveries that led to the first transgenic mice. The Lake Forest students were also able to eat lunch and talk with Dr. Smithies.
The Symposium's goal is to provide a forum of speakers of deep accomplishment to communicate their insights into how great discoveries come about. "This was a great opportunity for students to intimately learn how scientific breakthroughs happen," said Zorniak. 
This trip was financially supported by the biology department, neuroscience program, and Center for Chicago Programs.