Students showcase Parkinson's disease research at national level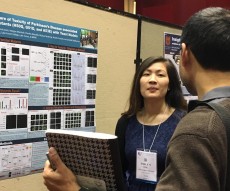 Emily Ong '17, Rosemary Thomas '18, and Paul Jones '18 presented their neuroscience research at the annual American Society of Biochemistry and Molecular Biology (ASBMB) meeting held in Chicago, Illinois on April 25.
The American Society for Biochemistry and Molecular Biology (ASBMB) is a nonprofit scientific and educational organization with over 12,000 members.  It holds its annual meeting as part of the Experimental Biology meeting, which is the annual venue of six societies comprised of more than 14,000 scientists and 50 guest societies. Primary focus areas include anatomy, biochemistry and molecular biology, investigative pathology, nutrition, pharmacology, and physiology. The 2017 Experimental Biology meeting was held in Chicago from April 22-26.
All three Lake Forest undergraduate students conducted Parkinson's disease research in Professor of Biology Dr. Shubhik DebBurman's research lab, where the focus is to understand the molecular basis of this devastating and incurable neurodegenerative disease in non-traditional model organisms, yeasts. 

This spring, all three students were named as 2017-2018 Bartram Research Scholars, thanks to a generous gift to the College from Steve and Ann Bartram (of Lake Forest) to enhance undergraduate neuroscience education and research training. The research support these students received as named scholars funded their attendance and presentation at this national meeting and it will continue to support their neuroscience research this summer.

Emily Ong '17, a neuroscience senior who just graduated from the college, presented her senior thesis research at Lake Forest College for which she received a national research grant from the 2016 Parkinson Disease Foundation and previously won the second prize at the 2016 Chicago Pharmacology Meeting. At the meeting, Ong shared new unpublished work on recently discovered familial Parkinson's disease mutants of alpha-synuclein that shed light on how they are likely toxic to brain cells. She not only received distinction in neuroscience for her senior thesis, but also was the recipient of the College's prestigious Phi Beta Kappa Senior Thesis Award this year. Ong is writing a manuscript this summer in preparation for a peer-reviewed publication. She plans to attend medical school and working full-time in biomedical research for this next year.

Rosemary Thomas '18, a neuroscience and biology major, and Paul Jones '18, a neuroscience major, presented their ongoing research that stemmed from their Richter Scholar research. They shared new unpublished work on how two key chemical modifications (phosphorylation and SUMOylation) alter the properties of Parkinson's disease protein alpha-synuclein and how each modification influences the other's contributions towards disease pathology in yeast model systems. Both are conducting their senior thesis in neuroscience this upcoming year.  Previously, Jones received a 2016 Nu Rho Psi national grant and Thomas won the second prize at the Chicago Pharmacology Meeting. Thomas is preparing for medical school, while Jones planning to pursue a Ph.D. in neuroscience.