Students present at DC neuroscience conference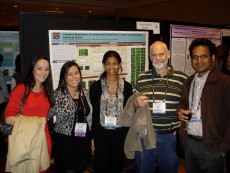 Daniella Brutman `12 and Madhavi Senagolage `12 presented at the national Society for Neuroscience (SfN) meeting in Washington, DC November 12-16, 2011. 
Both students earned SfN awards that financed their travel costs so they could attend the national conference. 
Biology and neuroscience major, Brutman, presented the Fall 2010 Lake Forest College Brain Awareness Campaign at the meeting's "History, Teaching, Public Awareness, and Societal Impacts in Neuroscience" poster session, and also during two additional special events: the Annual Brain Awareness Campaign Event and the Faculty for Undergraduate Neuroscience (FUN) Social. Her poster, entitled "Raising Brain Awareness: Integration of Undergraduate Curriculum with Public Education and K-5 Outreach at Lake Forest College," comes from her experience as the founding president of Synapse, a neuroscience student organization, and as a peer teacher that helped organize Brain Awareness Week. 
Senagolage, a senior from Colombo (Sri Lanka) with a major in biology and minors in neuroscience and chemistry, presented two posters at the conference. Her first poster was on her senior thesis research in biology on the mechanisms underlying the Parkinson's disease pathology. Her study is titled "Complex Regulation of α-Synuclein Properties in Yeasts by Endocytosis Pathway Genes" is part of a larger body of work she helped to complete as a research manuscript this year as a co-first author. 
Senagolage presented her second poster titled "Seven years of Eukaryon: An Undergraduate Scholarship Journal That Supports Inquiry-Based Pedagogy & Strengthens a Community of Undergraduate Scholars" as the current publication board chair of the undergraduate science journal, Eukaryon. 
"It was one of the best experiences of my undergraduate career," said Senagolage. "I was inspired by many pioneers in the field. It was a group of scientists who were truly passionate about what they are doing and their passion was contagious. There were moments that I would imagine myself in their shoes."
Senagolage was one of the seven undergraduate students who received an award after a nationwide evaluation of the students' individual contribution to their research project. 
The students were accompanied by neuroscience professors Shubhik DebBurman and Bob Glassman, who also presented their research at the conference.