Students intern at Chicago's premiere rehabilitation centers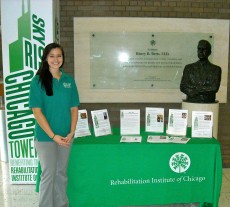 A recent agreement between Lake Forest College and the Rehabilitation Institute of Chicago addresses the growing interest among psychology and neuroscience majors to pursue a field in occupational therapy.
The partnership, which was finalized over the summer, means that students can earn academic credit by completing an internship at the RIC, ranked since 1991 by U.S. News & World Report as the No. 1 rehabilitation hospital in America.
Kathryn Dohrmann, assistant professor of psychology and supervisor of psychology internships, together with Director of Career Services Lisa Hinkley and Assistant Professor of Biology Lynn Westley, worked with the RIC to solidify the agreement.
One student, Samantha Smith '13, is part of the College's "In the Loop" program and already has secured an internship with the RIC.
"I wanted to work in an setting where I'd be getting extensive experience with occupational therapy," said Smith, who started in early September and expects to complete the 150 hours required by mid-December. "I looked up RIC and read through some of the different services they offered and their mission statement and thought that it would be a good fit."
As an intern there, Smith observes both physical and occupational therapists, and under close supervision, she sometimes guides patients through easier exercises.
"I love being able to brighten the day for the patients at RIC," she said. "Even if it's just getting them to smile after a therapy session, or getting them a drink of water they've been needing, I really like making their experience at RIC more enjoyable."
The U.S. Bureau of Labor Statistics describes the job outlook for occupational therapists over the next decade as "much faster than average," with a projected rate of change in employment of 33 percent; this is 19 percent higher than the average growth rate for all occupations of 14 percent. The median pay of an occupational therapist in 2010 was $72,320 per year.
Dohrmann says in addition to the promise of opportunity the field provides, students have told her they appreciate the creativity that comes along with a job in occupational therapy. They get to problem solve to meet the needs of each patient, including those with Alzheimer's disease, cerebral palsy, and autism.
A "healthy" number of juniors and seniors take advantage of the partnership the Lake Forest psychology program has with about 50 institutions, Dohrmann said. Sixteen students participated in an internship last semester, and 14 this semester.
Internships expose students to research and clinical experience, provide them with an opportunity to work side-by-side with professionals, and help them to explore career paths. Sometimes students even get job offers from internship sites, Dohrmann said.
Another area facility that opened its doors to students last year is the Pathways Center, which Dohrmann described as "one of the finest organizations in the country" for pediatric occupational therapy. One student interned in the Glenview-based organization last fall, and another last spring.
A career in occupational therapy requires a master's degree, and Dohrmann says the College's program prepares students to be successful at the graduate level.
Smith hopes to complete her master's degree in occupational therapy at Saint Catherine's University in Minnesota.
"From there, I hope to find a good job in the field and begin a fruitful career as an occupational therapist," she said.