Student wins first prize at neuroscience meeting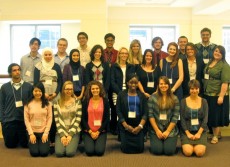 Sydni Cole '12 won first prize at the Chicago Society for Neuroscience (CSfN) meeting's 10th Annual Undergraduate Poster Competition. Thirty-two undergraduates presented posters from several major midwest institutions, including three other Lake Forest College students. 
Cole presented her neuroscience thesis research at the conference. She developed a novel technique, along with psychology professor Matt Kelley, to explore whether part-set cues influence object-location memory and procedural memory.  This work has important practical and theoretical implications.  Cole, who defends her thesis this spring, is graduating Phi Beta Kappa after attending the College for only three years. She plans to go on to attend medical school.
"Sydni was simply awesome to work with," said Professor Kelley. "She really tackled  a tough project, made it her own, and produced an outstanding product."
Forty Lake Forest College students attended the meeting at Northwestern Memorial Hospital in the city on Thursday, March 29. They were accompanied by Professors Shubhik DebBurman and Bob Glassman. The CSfN hosts the largest Midwest neuroscience meeting every year. It is composed of academic and industry-based scientists who are interested the field of neuroscience.
This is the tenth year straight that Lake Forest College students have won at least one award at the CSfN meeting. The following students have won awards at the conference:
2011
Madhavi Senagolage '12, 2nd Prize, will begin her PhD in Biology at either Northwestern, Wisconsin, or Michigan
2010
Derek Atchley '10, 3rd Prize, PhD in cognitive and behavioral neuroscience at Wayne State University 
2009
Michael Fiske '10, 1st Prize, PhD studies in Biology at University of Washington
Ray Choi '09, 3rd Prize, MD studies at University of Colorado
2008
Stephanie Valtierra '08,  2nd Prize, PhD studies in Neuroscience at Northwestern University
Alexandra Ayala '09, Honorable Mention, Math and Science Teacher, Teach for America 
2007
Michael White '07, 2nd Prize, MD 2012 (will begin neurology residency at Washington University)
2006
Michael Zorniak '07, 3rd Prize, PhD studies in Neuroscience at University of Wisconsin- Madison
2005
Arun Paul '05, 1st Prize, MD 2012/PhD 2010, RFUMS (will begin oncology residency at Wayne State)
David Mann '05, 3rd Prize, MD Ross University (received 2010); MD Residency, Medical College of Wisconsin  
2004
Isaac Holmes '04, 1st Prize, MD (2009) Rush Medical College; MD Residency in cardiology, Rush Medical College (will become Chief Resident next year)
2003
Jillian Hibler '04, 2nd Prize, DVM 2007, Washington State University
Nijee Sharma '04, co-3rd prize, MD (2011/PhD 2009) Loyola; MD residency in neurology at UC Davis
Brandon Johnson '03, co-3rd prize, PhD (received 2010) and Postdoctoral fellowship, Stanford University