Student wins award at Neurology and Neurological Disorders meeting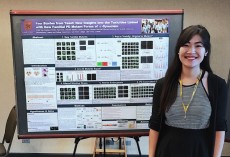 Emily Ong '17 received the accolade at the 14th Annual World Congress on Neurology and Neurological Disorders meeting in Chicago on July 18 and 19.
Ong presented her senior thesis on Parkinson's disease. Her poster is titled "Four stories from yeast: New insights into the toxicity of new familial Parkinson's disease mutant forms of alpha-synuclein." Her co-authors on this work are Maiwase Tembo '15, Paul Jones '18, Chisomo Mwale '19, Charles Alvarado '16, Morgan Marshall '16, and Michael Buabeng '19.
Ong had received a Parkinson Disease Foundation grant last year to conduct this work, and she also received the college's Phi Beta Kappa Senior Thesis Award this spring. Emily Ong was named a Bartam Scholar in 2017 and funds from this grant supported the work she presented at the meeting.
Ong is planning to do full-time neurological disorders research at Northwestern Feinberg School of Medicine next year before applying for medical school.
Related Links: