Student research recognized as "the best" at a national scientific meeting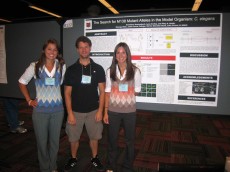 Lynn Switaj '11 and Anneliese Szutenbach '12 were awarded the best student poster prize among undergraduates presenting at the 70th annual International Meeting of the Society of Developmental Biology held in Chicago (Illinois).
Switaj '11 graduated with a major in biology and a minor in chemistry and Szutenbach '12 is currently a senior majoring in biology with minors in neuroscience and chemistry.  Both have been engaged in undergraduate research in the past two years in Assistant Professor of Biology Pliny Smith's developmental biology research lab at Lake Forest College. They have collaborated on the senior theses projects in biology, which they presented at this prestigious meeting. Both are planning for postgraduate doctoral degrees and careers in pharmacy.

Their award winning poster is entitled "The search for mutant alleles affecting pharynx in the model organism: C. elegans". As the study's abstract explains, C. elegans is a microscopic worm that serves as a great biological model to study development of higher organisms. In an attempt to discover new genes that control the development of specific organs, Switaj and Szutenbach conducted genetic experiments on a particular mutated worm that does not have a functional pharynx (a major organ within its digestive system). This mutant worm, named by the Smith lab as M138, is not capable of ingesting its food, which is a possible cause of its larval lethality. It exhibits an abnormal, nonfunctional pharynx, with severely disorganized muscle cells that cannot adhere normally to each other.
 
 Through complex genetic analysis, the collaborating students have successfully mapped the mutant allele to a specific part of one of the worm's many chromosomes. Their next task is to hone on the exact identity of this gene and how its mutation causes the organ abnormality.  Such discoveries in worms research may provide a pathway into a better understanding of the full range of genetics in multicellular eukaryotes, including humans. As a rising senior, this research contributes to Anneliese's upcoming thesis.

After receiving this recognition, Szutenbach stated: "I think the experience of presenting to an audience with scientific backgrounds has prepared us in not only explaining our research and findings but also answering questions and receiving new ideas and techniques from the audience that we have not tried before. The opportunity we have had doing undergraduate research in the lab at Lake Forest College has led us to this accomplishment.  Our advisor, Dr. Pliny Smith, played a significant role in supervising our research and taking the initiative to get us involved in the SDB conference. I plan to go on to Pharmacy school and I feel that the research I have completed serves as a foundation for my future academic career after College."

This newest honor is but the latest in a string of recent accolades at national conferences heaped on Lake Forest College life science majors. In 2009, our students were recognized with the top science education poster at this same meeting for their leadership in publishing the Lake Forest College student research publication, Eukaryon. In 2010, Michael Fiske '10 received the top student research prize at the annual American Society of Biochemistry & Molecular Biology meeting. This year, two other biology seniors, Madhavi Senagolage '12 and Daniella Brutman '12 were honored with travel awards to present their research and educational outreach at the Society for Neuroscience meeting in Washington DC.

Such broad and diverse forms of recognition by professional societies at the national level is one measure of success of the deep engagement of lake Forest students have with their faculty on varied aspects of undergraduate teaching, research, and outreach.

According to its website, the Society for Developmental Biology (SDB) was founded in 1939 to promote the field of developmental biology and to advance our understanding of developmental biology at all levels. SDB is a non-profit international professional society dedicated to advancement of the field of developmental biology and serves as the premier forum for research, education and career development in this field.