Seventh edition of Eukaryon features public lecture on cholesterol regulation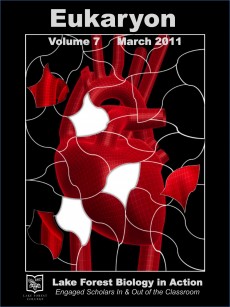 The Department of Biology celebrates the 2011 edition of Eukaryon, the College's unique undergraduate research journal of life science scholarship, with a "Science for the Public" seminar delivered by a Lake Forest College alumnus.
The Department of Biology at Lake Forest College is pleased to announce the publication of the seventh edition of the journal Eukaryon. The 2011 online edition was inaugurated to the College's website, and a campus reception celebrating the collaborative work of the students and faculty was held in the McCormick Auditorium. Katrina Brandis '06 presented a public lecture titled "Discovering Novel Genes that Regulate our Cholesterol." Please call 847-735-6040 for more information. 

About Eukaryon
Eukaryon is an award-winning undergraduate research journal that publishes the very best of life science scholarship conducted by Lake Forest students. The journal's goal is to celebrate and highlight the academic accomplishments achieved by these students within the research-rich classrooms and student-centered research labs of Lake Forest College faculty, and the life science related activities of Lake Forest College science majors on and off campus throughout 2010-2011.

The word "eukaryon" and the journal logo reflect the diversity of organisms that the faculty of the Biology Department are involved with through their scholarship.

"The editorial staff and authors of Eukaryon have done a wonderful job with the new issue! Readers will immediately notice our students' dedication, talents for research and excellence in scholarship," says Dr. Anne Houde, chair of the biology department.

The students and faculty of the biology department founded this peer-reviewed online journal in 2004 and published the inaugural issue in January 2005. In 2007, the journal also began publishing a limited print version. A student editorial board comprised of biology students peer reviews, copy edits, and publishes the journal annually. The Board also authors all editorial policies of the journal, with the goal of making Eukaryon a true student-produced publication that maintains high scientific journalistic standards.

The 2011 issue maintains the journal's high selectivity in peer review. The journal has also improved on several fronts: expanding membership to several majors outside sciences, added a new position of publication associate chair, increased the academic diversity of the journal, and met all of our goals, while maintaining the high quality established by our predecessors. All of this was accomplished through cooperation between Eukaryon's members, making this difficult process smooth while keeping discipline in regard to deadlines. Alina Konnikova '11, the journal's current editor-in-chief, states: "The innovations and success of this issue are solely due to teamwork. Today, I can certainly say that Eukaryon has cemented itself in the Biology department; now, the boundaries of our success are dependent only on our continued hard work and dedication, a seven-year ripened recipe for success." 
This inauguration caps another banner year of national activity and recognition for Eukaryon. Its student leaders and advisors have been presenting ongoing innovations at the annual meetings of scientific societies throughout 2010 and 2011.
Current advisor, Associate Professor of Biology Shubhik DebBurman states: "Over seven years, Eukaryon has matured into a well-respected publication within the national undergraduate life sciences science education and research community. Recently, external reviewers of the biology department praised the journal's innovative and pioneering student-led effort to enhance our undergraduate biology experience. What's really exciting is that several other institutions across the country are at various stages of starting publications like Eukaryon and often seek the advice of our editorial board."
About Katrina Brandis '06

Katrina Brandis '06 is a PhD candidate at the Washington University School of Medicine in the molecular cell biology program, where she is a researcher in the university's Diabetic Cardiovascular Disease Center. Her PhD thesis is entitled "Discovering the Role of Box C/D snoRNA U60 in Cholesterol Homeostasis." For this research, Brandis was awarded the Cardiovascular Training Grant at Washington University from 2007-2010.

Brandis graduated from Lake Forest College in 2006 with cum laude honors and with departmental honors in biology.She received the Fredricka Stahl award for outstanding academic achievement in biology. She was also awarded the Phi Beta Kappa senior thesis award that year for her senior thesis studies in the molecular basis of Parkinson's Disease, conducted in the research laboratory of Dr. Shubhik DebBurman (associate professor of biology), where she first began research as a first-year Richter Scholar and that led to becoming first author on two papers published that year in the Journal of Molecular Neuroscience.
Brandis was one of founding members of editorial board of Eukaryon in 2005-2006 and served as its first editor-in-chief. Her 2006 editorial best captures Eukaryon's legacy of impact: "My fellow board members have worked hard to learn the ethics, logistics, time and dedication it takes to produce this highly selective peer-reviewed publication. The extraordinary result has been a novel way to display and honor outstanding work of our peers. Undergraduate peer-reviewed science journals produced at small liberal arts schools, such as ours, are indeed rare. In a short time, Eukaryon has already received much acclaim from other schools around the country, who recognize the originality of such a publication, and who would like to begin to record and communicate their own successes in undergraduate scholarship in similar ways."
Lake Forest College is a national liberal arts institution located 30 miles north of downtown Chicago. The College has 1,400 students representing 47 states and 54 countries.
News Contact
Samantha Pinto '13
Eukaryon Board member
email:
pintos@lakeforest.edu
Shubhik DebBurman
Associate Professor of Biology
Faculty Advisor to Eukaryon
email:
debburman@lakeforest.edu
Related Links: