Science majors shine five years in a row at the premier Midwest pharmacology conference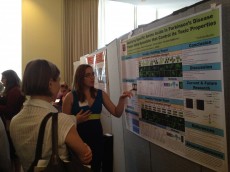 Lake Forest students have done it again for the fifth year in a row. Katrina Campbell '14 has won the Second Prize for undergraduate research at the Great Lakes Chapter of the American Society of Pharmaceutical and Experimental Therapeutics (GLC-ASPET) meetingheld at the Rush University Medical Center in downtown Chicago on Friday, June 22.
Ten Lake Forest College science majors attended the 25th annual meeting of the GLC-ASPET: Madhavi Senagolage 12, Natalie Kukulka '13, Arielle Nguyen '13, Katrina Campbell '14, Victoria Egedus '14, Lani Leong '14, Maiwase Tembo '15, Galina Lipkin '15, Ian Lin '15, and Michael Herriges '15.
Campbell '14 is majoring in biology and neuroscience with a minor in Spanish. Her undergraduate research on Parkinson's disease was conducted in Professor of Biology Dr. Shubhik DebBurman's lab, and is entitled "Identifying Specific Amino Acids in Parkinson's Disease Protein Alpha-Synuclein that Control its Toxic Properties." She initiated this work last year as a first-year Richter Scholar and plans to expand it into her senior thesis next year. Three other Lake Forest students have contributed to this ongoing project: Keith Solvang '11, Madhavi Senagolage '12, and current Richter Scholar Galina Lipkin '15. The National Institutes of Health (NIH) has funded this work through an R15 AREA grant (2007-2012) awarded to Dr. DebBurman.

Natalie Kukulka '13, biology and neuroscience major with a minor in studio art, also presented her senior thesis research entitled "Alpha-Synuclein Familial Mutants in Parkinson's Disease: Does combining them aggravate pathological properties in yeast models?" Natalie began this work first as a Richter Scholar two years ago. She is currently collaborating with Ryan Vlaar '14, Madhavi Senagolage '12, and current Richter Scholar Michael Herriges '15 in complete this study this year.

On winning this honor, Campbell said: "I began doing research because I have an interest in attending graduate school and thought experience in a lab would tell me if this path was right for me. I continue to do research because I find what I'm working on fascinating and challenging. The ability to communicate effectively is crucial in the scientific field. Presenting at conferences outside of Lake Forest allows me to work even more on developing my communication skills. I had the opportunity to let people know what I was doing, and I received feedback about new things I may want to try or look into from others in the field. I think the most important part of a presentation is enthusiasm. If listeners don't feel like the presenter is engaged in their research, they won't be either. It is important to show people that you have studied and thought about what you are doing instead of acting as a technician. At this point, I am unsure of what I want to do after Lake Forest. I am interested in either attending medical school or pursuing a PhD in molecular biology, molecular neuroscience, ecology, or evolution. My ideal area of work would be one that allows me to combine medicine, molecular biology, and evolution."
This is the fifth consecutive year that Lake Forest science majors have won prizes at this prestigious scientific meeting competing alongside undergraduates from Indiana, Ohio, Iowa, and Illinois:
2011:
Keith Solvang '11, biology major, won the first prize and is an applicant for medical school this year.
Pascal Accoh '12, biology and neuroscience major, won the third prize and will begin his Masters degree in Public Health at Southern Illinois University.

2010:
Alina Konnikova '11, biology major, won the first prize and is now attending the University of Illinois Chicago Medical School.
Ashleigh Porter '11, biology major, won the second prize and is now attending the Wayne State University Medical School. 
Natalie Simak '11, biology and psychology major, won the third prize and is attending medical school at Rosalind Franklin University of Medicine and Science.

2009:
Daryn Cass '10, biology and international relations major, won the third prize. She is now a research technician at RFUMS and plans to apply for graduate school in her future.

2008:
Alexandra Ayala '09, biology major, won the first prize. She is now a math and science teacher with Teach for America in Houston, Texas.
"The consistency with which our science majors are regularly recognized for their undergraduate research at multiple regional and national conferences is extraordinary and enviable" says Dr. DebBurman. "It speaks directly to the high level of motivation and hard work our students routinely demonstrate towards their scholarship. Our pedagogical approach stresses hands-on experiences and articulate communication of scholarship, and we strive to provide multiple opportunities for our students to behave like scientists, including annual participation at scientific conferences."

ASPET is the premier scientific society for scientists who conduct basic and clinical pharmacological research in academia, industry and the government. The Great Lakes Chapter was founded in 1987 and its annual meeting is held each spring to promote scientific communication among research workers interested in pharmacology in the Midwest. Its members research efforts help develop new medicines and therapeutic agents to fight existing and emerging diseases. Annual meetings are held each spring to foster the goals of ASPET to promote scientific communication among research workers interested in pharmacology and have consistently drawn a wide representation of the Midwestern pharmacology community. To learn more about the GLC-ASPET conference, click here: http://www.aspet.org/GLC/
Related Links: