Science alumni to discuss brain cancer and explore diverse career choices at 2012 Hostage Brain Conference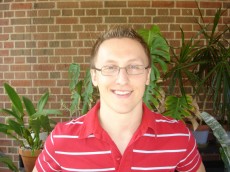 Michael Zorniak '07, will give a public lecture at Lake Forest College on Saturday, December 8 at 12:15 p.m. Aimed at a general audience, Zorniak's presentation, titled "Strategies for Personalized Medicine in Brain Cancer". Stephanie Valtierra '08, Elizabeth Ross '11, and Saajidha Rizvyden '12will lead a science alumni career panel on diverse career choices in the life sciences at 11:45 am. Both events will be held in Room 200 in the Johnson Science Center. The public is welcome to attend free of charge.
The 2012 Hostage Brain Conference highlights six research seminars presented by the science students of the fall biology course BIOL362 Mechanisms of Brain Dysfunction. These seminars focus on the latest molecular, genetic, and biochemical advances in Brain Cancer, Schizophrenia, Epilepsy, Multiple Sclerosis, Deafness, and Autism (see detailed schedule below). The alumni panel and the keynote seminar are co-sponsored by student organizations Beta Beta Beta and Eukaryon.

Michael Zorniak '07 is currently working with the Department of Neurological Surgery at the University of Wisconsin Madison under the supervision of Dr. John Kuo, a noted physician and scholar in the field of brain tumor research.  Zorniak's PhD dissertaton is titled "Proteomics of Human Glioblastoma Stem-Like Cells", which he is defending this spring. Zorniak has co-authored several articles and book chapters with Dr. Kuo on his thesis topic.  Following his PhD, Zorniak plans to pursue a postdoctoral fellowship at the National Institutes of Health. As a biology major, Zorniak participated in the Drug Discovery summer undergraduate research fellowship program at Loyola Stritch School of Medicine and did his senior thesis research with Dr. Shubhik DebBurman (Professor of Biology and Chair of Neuroscience), while helping found the journal Eukaryon and served as its Editor-in-Chief.

Stephanie Valtierra '08, Biology major, is currently pursuing a PhD in Neuroscience at Northwestern University. Stephanie conducted undergraduate research at Northwestern University and did her senior thesis research with Dr. Shubhik DebBurman (Professor of Biology and Chair of Neuroscience). After graduation, she also worked as a research technician at Northwestern University and at Rosalind Franklin University of Medicine and Science.

Elizabeth Ross '11, Biology and Education major, is currently a K-8 science teacher at the Lake Forest Country Day School. In 2011, she was nationally recognized for her teaching when she received Abbott Sigma Xi 2012 Elementary School Outstanding Science/Mathematics Teacher Award.

Saajidha Rizvydeen '12, Biology major, is currently employed with the Chicago Department of Public Health, and intends to pursue medical school in the future. While at the college, Saajidha was a Richter Scholar and worked with Dr. Karen Kirk, in whose lab she completed her senior thesis in biology.  Saajidha also served as the Editor-in-Chief of Eukaryon.

Full Program of the 2012 Hostage Brain Conference

8:00 AM            
REGISTRATION, Johnson Bridge, 2nd Floor
Coffee, Juice, & Bagels
 
8:30 AM           
Genes that Fell of Deaf Ears               
Ms. Victoria Gomboc '13, Ms. Rachel Gonzales '13, Ms. Rida Khan '14
 
9:00 AM           
AUTISM: A Spectrum of Disordered Communication
Ms. Maria Basith '14, Ms. Kim Diah '13
 
9:30 AM           
BRAIN CANCER: Glial and Neuronal Precursors Lose Brakes and Pedals
Ms. Lani Leong '14, Ms. Anhar Mohamed '14                            

10:00 AM            
COFFEE BREAK, Johnson Bridge, 2nd Floor
 
10:15 AM     
SCHIZOPHRENIA: Multi-genic Psychosis, Multi-neurotransmitter Dysfunction                             
Mr. Cody Blom '15, Ms. Rabia Khan '14
 
10:45 AM     
MULTIPLE SCLEROSIS: Loss of Myelin through Auto-immunity         
Ms. Celina Antony '14, Jessica Chin '14

11:15 AM     
Channeling Epilepsy's Hyperactive Potential                                 
Ms. Victoria Egedus '14

11:45 AM     
DIVERSE CAREERS & PATHS IN LIFE SCIENCES: AN ALUMNI PANEL
Stephanie Valtierra '08, Ms Elizabeth Ross '11, Ms. Saajidha Rizvydeen '12

12:15 PM     
KEYNOTE LECTURE IN NEUROSCIENCE
Strategies for Personalized Medicine in Brain Cancer
Mr. Michael Zorniak '07, PhD Candidate in Neuroscience, University of Wisconsin
News Contact
Dr. Shubhik K. DebBurman
Professor of Biology; Chair, Neuroscience Program
Ph: (847)-735-6040
Email:
debburman@lfc.edu