Run, students, run!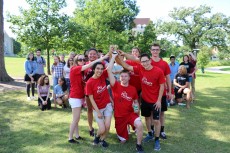 Six teams vied for the coveted McPherson Cup at Lake Forest College's 4th Annual Plate Race on July 13.
After gathering for beverages and snacks, students teamed up to carry a stack of 40 yeast petri plates to the finish line, relay style, without dropping any. The track wound around the Middle Campus quad.
The annual Plate Race and picnic at Lake Forest College is an event designed to bring together undergraduate summer researchers for food and games. This year, the Shingleton Lab team won the race and the McPherson Cup after competing against five other teams, including the DebBurman "D-Lab," Kirk and Menke Labs, Psychology Department, Gladen Lab, and Richter Scholars.
Held by the biology department, the idea for this unique race was adapted by Professor of Biology Shubhik DebBurman when he participated in a similar race during his time at Cold Spring Harbor Labs in New York in summer 2000, and he began holding the race at Lake Forest College in 2014.
Previous Plate Race champions include the Shingleton Lab in 2014, the D-Lab in 2015, and the Physics Department team in 2016.