Rosalind Franklin scholars published in journal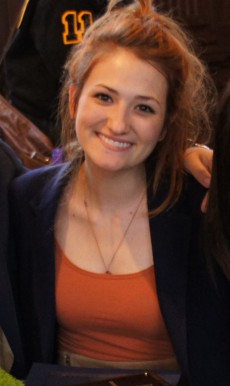 After working in a research lab at Rosalind Franklin University of Medicine and Science (RFUMS) for the past two years, senior Ashley Reich will have her name on a published paper in the Nucleic Acids Research journal this summer.
Reich is currently doing research in Dr. Michelle Hastings' lab at Rosalind Franklin University in the department of cell biology and anatomy through the Lake Forest College RFUMS summer internship program. She's been working with graduate student Mallory Havens on her dissertation research. 
Their research has been looking at microRNAs and how they regulate gene expression through a novel pathway. The article titled "Biogenesis of mammalian microRNAs by a non-canonical processing pathway" will be printed this summer, but the article is already available online here. 
"Being able to work on this project with Mallory and Dr. Hastings has been one of the greatest experiences I have had here at Lake Forest," said Reich. "Not only is it incredibly rewarding to see our efforts published, but I have been able to use this opportunity to help me decide what I would like to do in the future."
Reich plans to turn this research into her senior thesis, which will address the processing of microRNA and determine how that plays a role in the growth of colon cancers. She plans to head to graduate school after completing her studies at the College.
Spoken like a true scientist, Reich said, "I think research at the undergraduate level is extremely important because it challenges you to explore the unknown, think critically, and use that knowledge to help you synthesize new ideas."
Several alums who participated in the Lake Forest-RFUMS program have recently had their research published. Derek Atchley '10, Emily (Venheim) Hankosky '09, and Kaylyn Gasparotto '11 worked in Dr. Amiel Rosenkranz's lab at RFUMS and their research on stress and its effects on memory was published in the international neuroscience journal Behavioral Brain Research. Daryn Cass '10 and Natalie Simak '11 worked with Dr. Kuei Tseng, who helped start the RFUMS summer research program at Lake Forest. Their research on Parkison's disease was published in the international, peer-reviewed journal, PLoS ONE.