Recent graduate earns national grant to begin uncharted research of Parkinson's disease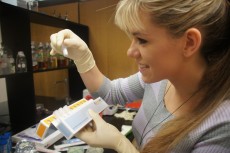 Natalie Kukulka '13 is putting her grant from the Parkinson's disease Foundation to use this summer as she begins a pioneering study of the role variant forms of the protein alpha-synuclein play in the development of the neurodegeneration disease.
She is one of 15 fellows selected for the $4,000 in funding out of more than 60 medical, graduate, and undergraduate student applicants, and she is the fourth Lake Forest student to receive the prestigious grant since 2003.
"One reason why Natalie was a competitive candidate for this Parkinson's Disease Foundation fellowship is that she has sought out challenging scholarly opportunities at all stages of her undergraduate career," said Shubhik DebBurman, Professor of Biology and Chair of the Neuroscience Program. "It's one more piece of evidence that our students emerge as independent thinking scientists who can up come with ideas worth supporting."
Kulkulka's work with Parkinson's disease research began when she was a Richter Scholar in 2010. She even completed her senior thesis about mutations of the hereditary form of the illness. This particular strand of research started last summer, when the biology and neuroscience double major came across a paper describing the identification of three spliced variant versions of alpha-synuclein in both healthy and diseased patients.
"The exact contributions of these natural variants/truncations to alpha-synuclein biology and pathobiology need much more clarity," Kukulka writes in her abstract.
Her method is to insert lab-created variants individually into yeast cells and see where they localize, how much they accumulate, and if they are toxic. She will compare her findings to the control full-length protein.
Because the research might take up to three years, she hopes to at least complete preliminary experiments before she exits at the end of the summer. In the meantime, she is imparting the knowledge she has accumulated with current students, who will continue her work. 
As far as she knows, there are no other similar studies taking place.
"There's a lot of speculation but no concrete experiments," she said.
It's part of what makes this process so exciting.
Kukulka said she plans to begin studying for the MCAT soon on her way to earning an MD-PhD, which will offer her the opportunities to both treat problems and find the source of those problems.
"I never thought of myself as a researcher until I started doing it," she said.
She knows her work will involve the brain in some form. She's been hooked ever since taking a class with DebBurman as a first-year student.