Public Neuroscience Lecture on Movement Disorders on Feb. 23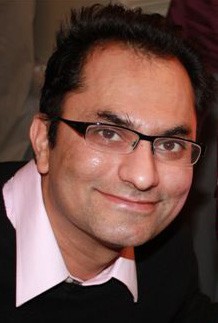 The Lake Forest College neuroscience program and SYNAPSE (the neuroscience student organization) invites the public to a lecture entitled "Neurodegeneration: Role of Flow in Motion" by Dr. Puneet Opal on February 23 (Wednesday) at 4:15 pm, in Meyer auditorium (Hotchkiss Hall).  A reception will begin at 3:45 pm. 
Dr. Puneet Opal is an Assistant Professor in the departments of Neurology, Cell & Molecular Biology and Neuroscience at Northwestern Feinberg School of Medicine.  He received his MBBS degree from the University of Pune (India) and PhD in neuroscience from Northwestern University Institute of Neuroscience.  He completed his neurology residency at the University of Iowa.  He then engaged in a movement disorders fellowship and a postdoctoral research fellowship in genetics research at the Baylor College of Medicine.
One of the rising experts in movement disorders, he specializes on spinocerebellar ataxias on which topic he has published over 25 articles, reviews, and book chapters. For his work on these diseases, he has received several research and career developmental awards from the National Institutes of Health, the National Ataxia Foundation, and the Brain Research Foundation.
The event is open and free to the public. Parking is available on Middle Campus (enter at the College and Sheridan Road intersection).