Public neuroscience lecture features noted Lou Gehrig's Disease pioneer on Feb. 6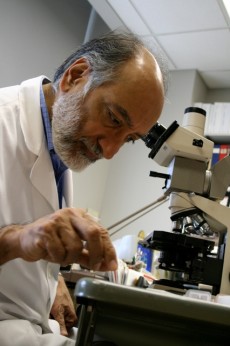 The Lake Forest College Neuroscience Program, Biology Department, Beta Beta Beta (the biology honorary)  SYNAPSE (the neuroscience student organization) invites the public to a lecture entitled "Bringing Neurodegeneration to Heel: Lessons from Lou Gehrig's Disease" by Dr. Teepu Siddique on February 6 (Monday) at 4:15 pm, in Meyer auditorium (Hotchkiss Hall).  A reception will begin at 3:45 pm. 
Teepu Siddique earned his MBBS from the University of Karachi and trained in neurology at UMDNJ-NJ Medical School, thereafter specializing in neuromuscular medicine.  He completed fellowships at the Hospital for Special Surgery-Cornell Medical Center and the NIH.  He held faculty appointments at the University of Southern California and Duke University before coming to Northwestern University, where he is the Les Turner ALS Foundation/Herbert C. Wenske Chair in the Davee Department of Neurology and Director of the Division of Neuromuscular Medicine.
A noted pioneer in neurodegenerative disease research, Siddique's research has focused on the molecular genetics of ALS and related disorders, employing a range of strategies to identify several genes that cause inherited ALS (SOD1, ALSIN, FUS & UBQLN2), and genetic loci. His group has developed several animal models for neurodegenerative diseases, including SOD1- and ALSIN-ALS.  Genetic factors associated with risk for sporadic ALS have been uncovered. His recent work with UBQLN2 demonstrated a defect in the protein degradation pathways as a common mechanism of disease sporadic ALS, familial ALS and ALS/dementia, paving the way for targeted treatments in ALS.
Professor Siddique has received national and international recognition, including the first Shelia Essey Award in ALS from the American, Academy of Neurology, the Hope through Caring Award from the Les Turner ALS Foundation and the Forbes Norris Award.
The event is open and free to the public. Parking is available on Middle Campus (enter at the College and Sheridan Road intersection).
News Contact
Dr. Shubhik DebBurman
Associate Professor of Biology; Chair, Neuroscience Program
Ph: (847)-735-6040
Email:
debburman@lfc.edu